Album Review: Abiah's Life As a Ballad
November 15, 2012 • By Billy Delgado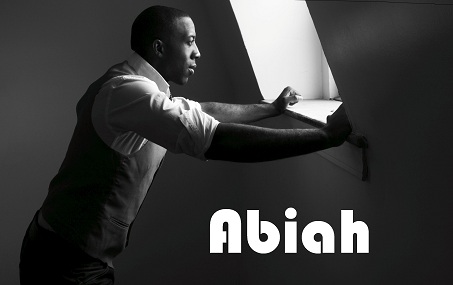 Abiah, formerly known as Jeremiah Abiah, released his latest music project Life as a Ballad two months ago. It brings two words to my mind: Starbucks and Honeymoons. Actually, that wouldn't be a bad title for the next album....Starbucks & Honeymoons....hmmm...Anyway, the album's loungey and jazzy feel had me craving a mocha latté. The silky vocals and deliberately slow pace had me thinking of my wife poppin' in Abiah's CD and dimming the bedroom lights.

And what better way to start a honeymoon than with a song written by Prince? Abiah's approach to the remake of the '80s classic "Doves Cry" threw a curve ball at me. All in all, though, the rendition was a home run hitter. The subtle crescendo on the pre-chorus sounded like a melodic cascade as he sang "maybe you're just like my mother, she's never satisfied." He puts the icing on the cake when he's playful with the hook, letting the guitar pluck in the background - in essence, creating a delightful take on Mr. Purple Rain's hit. Yes, Abiah put a new twist to it. I likey mucho.

The organic sounds on the production are a pleasant "coffee break" from all the relentless synths, AutoTune and perpetual loudness that one is bombarded with on the radio every day. I can appreciate the acoustic instruments with which these tracks massage your eardrums. I don't know if I can credit the band for making me feel like I'm right there at intimate stage left nodding to their music or my Beats by Dr. Dre headphones which enhance the lush sound of the piano. Probably a little bit of both.

One thing's for sure. Abiah is one talented singer whose rich tone keeps the album alive. Upon discovering he sang backup for George Michael, I was hoping for a remake of "Freedom 90" or "Father Figure," but he's only giving you an appetizer on this go 'round. Next up to bat was "Foolish Heart" in which Abiah displays his falsetto range. What's impressive is that even his falsetto, which he maintains in the track "Goodbye," is rich in tone -- something very reminiscent of another falsetto genius, Philip Bailey from Earth Wind & Fire.
Unfortunately, that's where the "fun" stops. I find that the production desperately needs a tempo change on the album because the brush snare and acoustic bass sound like they are pushing each other to get through the loungey set and call it a day's work. The monotony of every track makes it hard to distinguish one from another save the hooks that ever-so-slightly give them their own unique quality.

If Abiah's mission was to cater to the café and lounge crowd, he accomplished his mission. However, I have music A.D.D. so I want to hear something different on an artist's album. This is where creative production and vocal arrangement should step up to keep the songs from sounding redundant.

Still, accompanying music should do more than just sound busy. I love memorable songs, hooks and melodies. Since we're talking about a slow album, I'll use Stevie Wonder's "Overjoyed" as an example. Stevie's piano can be hummed from my memory. Another example of a slow dynamic song would be Alicia Keys "Love is Blind." Her haunting vocals gave the song an emotional dynamic that, otherwise, would have made the song's lyrical intent sound empty.

I know it's not fair to compare one artist to another but my point is that with a little more creative production Abiah can EASILY create memorable songs because he is NOT lacking vocal talent. In fact, the dude is a well sought after vocal coach in New York City and his songwriting ability is more than adequate. So what's left? Memorable music and vocal arrangement to shake the album out of its homogeneity.
If anything, I could be absolutely wrong about the need for better production if Abiah's target audience is the same as that of Norah Jones, who has made a successful career for herself by appealing to jazz, lounge and easy listening fans. The only difference is that Norah has also dabbled in pop and country in some of her work.
It's tough for me to say that the only song that stuck with me from Life As a Ballad was one originally penned by Prince. In my opinion, Abiah sounds like he is having the most fun with "Doves Cry" from what I can hear. I mean, who wouldn't have fun singing it? I turn it up and do karaoke in my car when that song comes on!

So, hopefully, on Abiah's next effort "Starbucks and Honeymoons," he'll continue evolving in his God-given craft and rise to newer heights.....and also remake "Freedom 90" for me.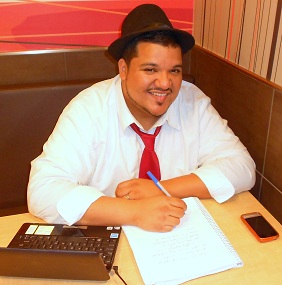 The self-proclaimed Zig Ziglar of rap, Billy Delgado, is a Music Producer/Artist and Writer by day and sleeping pillow-drooler by night. He is currently producing the debut album for his band The 288's, a God-inspired Hip Hop/R&B group that combines soul-baring lyricism with an electric innovative sound, breaking from the norm and reaching all cultures & ages (save senior citizens). He still can't believe he's a family man with a beautiful wife Mari & three boys Chris, Nelson and Joshua, so he continues to pinch himself silly to this day.


Visitor Comments (0)
Be the first to post a comment!