Music Review: Ordinary Love & Relationships
May 15, 2013 • By Billy Delgado
If you've read my review on the Broken Chainz Band, you'll know that I jump through hoops like a lunatic dolphin when I hear innovation and originality. Well, when it comes to songwriting and lyricism, I also become Flipper when rappers/MC's (assuming they have a solid delivery) use clever wordplay, similes and punchlines. D'Arthana "Ordinary" Burrell, a prolific writer, has me applying at the Sea World after listening to his latest DOUBLE-DISC Album (28 songs strong) Love and Relationships.
Ordinary aka O2dR, is one of South Florida's under-the-radar Dancehall Reggae artists; an "unsigned hype," if you will. He is NOT under-the-radar in the local Gospel scene though I feel like the label "Gospel" is limiting and unfair to this talented artist because Love & Relationships should be a listen for all peoples. He bears his emotions on the "Love" disc and doles out wisdom on "Relationships." Ok, let's get down to it...
"Ordi" begins Disc 1 with "God's Appeal" and it feels like he's just beginning to warm up with this mid-tempo ode that takes the view of God, making a loving plea to His human daughters and filling the void that no mortal ever could. Though I'm not fond of using other popular artists' material (Ordi breaks this Billy Delgado Commandment twice), Ordinary has a way of lyrically disarming listeners even if you're not feeling a particular song. He's a lot like Jay-Z in that he rarely throws a brick when he lobs a verbal jumpshot line after line on his verses.

On "Coming Around," Ordinary shows off his singing chops. Not known for vocals, he does a solid job at this attempt of incorporating more singing on this album with that classic Reggae nasal sound. This has to be the first Christian Bachelor reggae song ever recorded. If not, it's got to be the best one. Sounding as if Cupid sent an arrow his way, Ordinary goes LL Cool J (same theme as "Hey Lover") in a gentleman's innuendo-free manner about a girl who had caught his attention.

The show picks up faster on the Dancehall vibe with "Get to Know Me" and Ordinary unleashes the relentless wordplay he's known for. So what does Flipper do? He squeaks and flaps his fins on this one. I break the commandment of "coveting thy neighbor" because I certainly coveted a few of his lyrics on this one.

He has a way of making me constantly say "Dagnabbit! I wish I had thought of that one!" Ordinary finds a balance that allows his American audience to understand what he's saying without "selling out" like many Dancehall Reggae artists have done in the past. In other words, his patois (Jamaican dialect) is reigned in on some songs on a level that pleases both Caribbean folk and "Yankees." Every other line was "fiya" that I would like to post the entire song (which I might just do at the end of this review). But if I had to choose one line it would be this: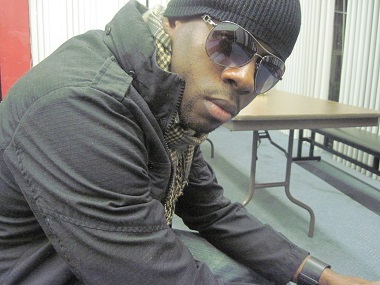 "I'm telling this cute tenderoni, If you get to know me,
you better proceed with caution.
Cuz if you get impregnated with feelings,
Sweety, you would never commit abortion."
You gotta hear this live, I had the opportunity to watch him live and his witty personality remains intact, if not downright 3-D.

He bares his soul on "Tired of Sleeping Alone" and it's an honest take on that yearning for a soul mate and love and affection that a Christian single struggles with while waiting until marriage. It must be said that, though this album contains 28 songs, many play like interludes with vocals. Many other artists fill their albums with filler-interlude material that nobody rewinds on but Ordinary simply replaces them with mini-songs on this track such as "Do what you gotta do." Smart move.

"How to survive a break up" is a little too reminiscent of Drake, production-wise, but guest collaborator Craig Hall makes you ignore that sentiment for a while with his smoky vocals on the hook. Any female listener will probably be looking for a shoulder massage after this song...I'm laughing as I type that. Ordinary should have this album on a display rack on every local spa.

The patois returns on "Pray For Our Sins" but the hook is another solid vocal effort. Ordinary doesn't pretend to be John Legend; it sounds like he knows what he can and cannot do when singing so you're not distracted by it. In today's music, many rap artists are singing their choruses rather than chanting them like in the 90's and Love & Relationships is no different. Honestly, I was hesitant at first because on his earlier albums such as Verbal Journal, Ordinary is more "hardcore." This album, however,grows on you after every listen.

"If you break my heart" is another song that is remiscent of a particular one-hit wonder group if only on the drum pattern and violins. Kayan Rhodes gives you a change with her sultry vocal although Ordinary's presence is strong enough for all the songs. The change is much appreciated when guest artists appear, however.

Alas we get to the Relationships disc. He starts off with the same appetizer-sized morsel with the first song, "Love Yourself." It's easy to forget Ordinary's faithfulness to the truth and Gospel message until he explicitly reminds you.

Again, in today's music, many artists who are NOT known for Dance music such as Techno, House and Electro, submit the obligatory dance track. Ordinary keeps that trend going with "Enjoy Life" but his songwriting keeps you forgetting the formulas producers commonly use so it's not a distraction. Although, I REALLY would have loved to hear Craig Hall make another appearance on this track joining the repetitive hook.

"It's Ok" makes me wonder if Ordinary wants to take another look at a full Americanized album. Very risky but potentially rewarding; but then I would get mad at him for "selling out," so never mind. Though his accent will always be there, it's charming and simply different. You CANNOT ignore great lyricism no matter what accent delivers it. South Florida's diversity will teach you that.

The wordplay returns "in the zone" on "My Exes Don't Live in Texas." It's one track I played many times in my car. Producer Brian "B-Will" Williamson got my attention on this one, though he produced the majority of the music on this collection. Such admirable rhythmic delivery Ordi posseses when you listen to "Let's Not Fall Asleep Angry."

On my top three has to be We, a classic Reggae track with its dub-style rhythm and soft piano chords nicely done by Jason "J-Vibe" Farmer. The addictive hook sings "I hope you can see clearly, Jesus in me lately. I be on that 'we' baby, I be on that 'we' baby. No Nintendo. Dat ano we baby. I be on that we baby I be on that we baby.
"We" means We Time with the Lord.

I see Ordinary as a musical version of actor Robert Downey Jr. An extremely talented presence that lifts up any script he's working with. What do I mean?

My only "negative" critique would be the production on this album. The tracks are good but they don't stand out to me. Sometimes the bass kick or bassline doesn't throb when it should, the snare lacks punch or the synth arrangement has no memorable melody to be his harmonic equal. But Ordinary's mere presence and sheer genius lyricism carries the entire team like Lebron James.

You never get bored of his wordplay and you listen out for the next punchline that might come next. In fact, it might be better that way because the album is definitely one you LISTEN to rather than HEAR. He is not a below-average artist on a celebrity-produced million dollar production reliant on AutoTune.

Overall, this album is a very fun listen and even if you're mildly familiar with the Jamaican dialect, Ordinary makes it easy on all English speakers. I'm not an advocate of the dating scene but Ordinary keeps it holy on his presentation of it. It's the way a Christian gentleman should approach dating if he were to choose to do it. He bares his soul when things go sour or wonderful. There may be material you may press fast-forward on only because you simply want to get to your favorite song. You can hear Ordinary's maturity and artistic growth on Love and Relationships. I'll be waiting for the THREE Disc album on the next venture. Just kidding. No pressure.

As promised, for those of you who have come this far, a verse from the song Get to Know Me:
Girl, you been a friend a mine,
so mi need fi tell you I'm willing to commit to you anytime!
You're like a million dollars and that's many dimes! Uh!
Am I committing any crimes?
If I steal your heart. Is that a petty crime?
Does killing time just chilling make it a heavy crime?
You and I are two of a kind. Gemini!
Blow thru my rollover minutes or whenever time.
Whenever I am in the zone mi spend time.
Wid a female like you I'd spend it like a penny.
I am, not like many guys!
She said gentlemen don't exist anymore it's like somebody committed genocide!
I whispered as I opened the Genesis door "A survivor was identified!" Yea!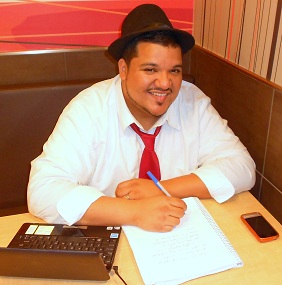 The self-proclaimed Zig Ziglar of rap, Billy Delgado, is a Music Producer/Artist and Writer by day and sleeping pillow-drooler by night. He is currently producing the debut album for his band The 288's, a God-inspired Hip Hop/R&B group that combines soul-baring lyricism with an electric innovative sound, breaking from the norm and reaching all cultures & ages (save senior citizens). He still can't believe he's a family man with a beautiful wife Mari & three boys Chris, Nelson and Joshua, so he continues to pinch himself silly to this day.




Visitor Comments (0)
Be the first to post a comment!