God Belongs in My City Tour
July 25, 2013 • By Tiffani Knowles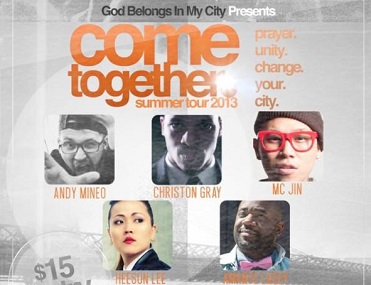 It all started in 2009 when a youth group in New York City saw an atheist advertisement campaign in their subway system which stated, "A Million New Yorkers Are Good Without God. Are You?"
They prayed and decided to take action with youth ministries around New York City to hold a prayer walk with a simple T-shirt with bold print: "God Belongs in My City."
In less than 2 weeks, on November 14th, 2009, over 1,500 youth walked from all over New York meeting at Times Square and Grand Central Station making a bold statement that made history in the city, the nation and now the world.
This summer, the movement hosts a 7-city concert tour featuring urban gospel and hip hop artists Andy Mineo, Heesun Lee, KJ52, Skrip, Amante Lacey, MC Jin, Christon Gray, Anthony & The Roar, Social Club, Propaganda and KB.
The first concert is scheduled for August 3 in Williamsburg, Brooklyn, New York.
For concert dates, visit www.godbelongsinmycity.com

Visitor Comments (0)
Be the first to post a comment!