True Voices Proclaim Truth in Poetry
August 21, 2013 • By Tiffani Knowles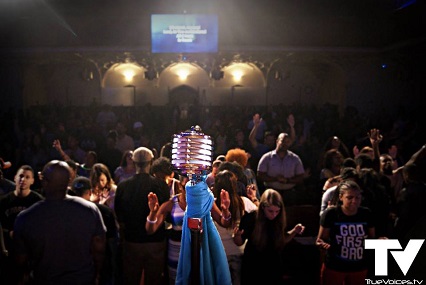 At Proclaim 2013, a True Voices TV annual event held on July 27 at New York City's Calvary Baptist Church to showcase the poetic voices of young poets from the NY/NJ area, guests were not just tickled by word play and rhyme, their souls were stirred by the profound messages of tragedy, triumph and salvation.
Art of all styles and genres was interwoven throughout the evening.
Hosts Darius Brown of Employed by My Vision and Comedienne Tea Love warmed up audiences with their light-hearted banter and instructions for spoken word decorum, "Bars!" – an exclamation to be used if a poet really did their thing.
Visual artists Robert Frank Corso and Alicia Lebron painted live while poetry and music served as inspiration for their acrylic brushstrokes.
Dance groups like Hip Hop Prophets and Dance for Change charged the atmosphere with prophetic yet modern movement, galvanizing the 16-25-year-old audience in attendance – a primary objective of sponsor organizations Young Life and Urban Kingdom.
Featured P4CM poet Ezekiel from the West Coast performed two pieces, one of which boasted a through-line analogy about God taking us from "beast" and making us into a "beauty."
Area poets like Thee Apprentice, Canden Webb and Karness spoke of social ills and personal experiences in their spoken word.
"I've been writing poetry since I was a kid. It's just my way of dealing with life. I talked to paper more than I talked to people," said Thee Apprentice, a poet based in Brooklyn. "Over the past 8 or 9 years, it turned into a tool for ministry. I share my experience, share my life and ultimately just share Christ."
Pennsylvania resident and first poet for the night Leah James knows all too well the outlet poetry has been in her childhood and adolescence.
The 22-year-old's performance was actually a real-life account of the domestic abuse she witnessed growing up.
She spoke of her life being a "beautiful mess" and how "Jesus took her pain and turned it into a pedestal."
The pain she alludes to stems from her mother's death at age 13, heartbreak at age 15, a ruptured brain aneurysm at age 16, loss of short-term memory for 3 years and undergoing grueling therapy to learn to speak again.
During therapy, pathologists would give her worried, defeated looks as if to say, "You'll never get better." The prognosis was that she would also never drive because she'd begin a journey and forget where she was headed.
Now, at 22, doctors view her as a miracle because there is no trace of her previous ailment. She drives a car, memorizes her poetry in a day and a half, performs spoken word with great articulation and is attending college to become a speech pathologist.
"I told God my life has been so painful. I want him to use me so bad. My experiences can't just be for nothing," said James.
Carvens Lissaint, actor, teacher and resident of Nuyorican Poets Café, was a featured poet who is also using spoken word to propel him into a lifelong career.
Lissaint recently did a taping with soul singer Jill Scott for TV One's Verses and Flow set to air this September.
His poetry is the type that is both real, authentic and relatable to both a mainstream audience and "churched" audience due in part to his battle with religion at a young age.
"I grew up in the Catholic church, which was one of the worst experiences of my life. I've had priests curse me out and went through a lot of bullying in the Catholic school system. It was all about ritual, not relationship, about judgment and not salvation. It damaged my relationship with God," said Lissaint.
Growing up in a Haitian immigrant home, his parents were diligent and hard-working but did not demonstrate love at home.
"All of that were chains I had to get broken so I can be engaged now. I didn't know what a true God-centered relationship was," he said. "What inspired me to actually seek God were those people who were transparent about their journey."

Visitor Comments (1)