Clean, Gut-Busting Comedy at Night of Gospel Laughs
September 5, 2013 • By Tiffani Knowles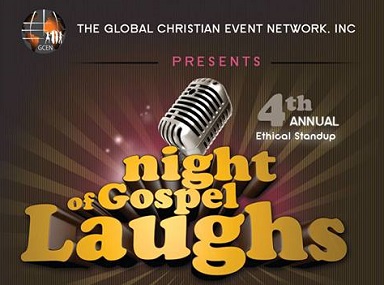 Clean comedy is most times the antithesis of gut-busting, weak-in-the-knees kind of humor; yet, this was not the case at the 4th annual Night of Gospel Laughs presented by GCEN on August 24 at Long Island University's Kumble Theatre in Brooklyn, NY.
Although marketed as a no-holds-barred ethical comedy show featuring some of the hottest, Christian comedians in the game, Night of Gospel Laughs was suitable for everyone and did indeed bar the potty mouths that you may typically associate with the BET, Comedy Central and NYC comedy scene.
The show featured comedians who were comfortable navigating cultural and religious bits, especially that of the West African heritage.
Comedians like JFK and Glory were at home on the stage at Night of Gospel Laughs, having been featured last year. Audiences were entertained by their many references about emigrating from Nigeria to the U.S. only to receive the culture shock of their lives. They also offered the heavily-populated Nigerian audience reminders of their sweet homeland.
However, many of their jokes were not new material.
One of the out-of-town comedians Big G was new to the Night of Gospel Laughs stage.
His stage name, Big G, short for George Anjorin, was given to him by his pastor at Jubilee Christian Church International in Stone Mountain, GA.
His infusion of scripture, his mix of Nigerian and southern twang and his self-mockery gave him a pass with audiences but his pacing back and forth aka the ping-pong effect made him appear nervous.
Comedian Femi The Entertainer also travelled to get to Night of Gospel Laughs as he makes his home in Nashville, TN.
Femi is known for his appearances at the GIAMA Nollywood Awards, Seyi Brown & Wamilele's ROTFLMAO Tour, The Nigerian Reunion and RCCGNA Conferences.
A huge part of his act was dedicated to an impression that had audiences in stitches – his impersonation of President Barack Obama.
Nailing his tightly-wound facial expression, his frequent vocalized pauses and his occasional dry comedic lines, Femi has rightly earned his comedic nickname: Femi Obama.
The show's headliner that night was Akintunde, a 20-year comedy veteran, who made it very clear when he got onto the stage that he "is not African."
"My parent [whose name is Cheryl] just wanted to name me Akintunde," he said, receiving lots of laughs from the audience.

Akintunde, originally from Savannah, Ga, is a sought after screen and television writer with over 350 original television episodes of writing credits, ranging from It's Showtime at the Apollo, the BET Awards and the NAACP Image Awards to the BET Networks and The Monique Show.
Having not always been a Christian comedian, Akintunde said in his secular career, "you couldn't have brought the kids or the elders to his show."
"I used to curse a lot," said "I used to be up here in New York doing the major stages like Carolines and Boston Comedy Club. Comedy is a very selfish artform, hoping that people laugh at you. The intent now, though, is to minister a healing laugh and to draw people to God. He's empowering me now to minister laughter. So, the pressure's off."
In the past five years, he has toured with Pastors Creflo and Taffi Dollar on the "Change Experience" Tour for and is signed with Arrow Global Entertainment as their only comedic artist.
His bits about marriage and kids earned lots of audience chuckles. But, his bit about how a woman wouldn't be able to handle being married to Jesus truly had audiences "rolling on the floor laughing."
The man who stole the thunder from the headlining act also transitioned from secular comedy to clean comedy himself several years ago -- Chris Williams, who is no stranger to the Night of Gospel Laughs stage.
While he may have repeated some jokes from last year's routine at NOGL, his improvisation and audience engagement always keeps his humor fresh and timely.
Born and raised in the Bronx, he knows the typical New York audience well enough to cater to their sensibilities regarding subway life, Caribbean culture and edgy northeastern attitudes.
Known for his film appearances in the films State Property and Paper Soldiers, his career will be reaching higher heights this year as he is currently filming a pilot in San Diego, Ca. for a new television program and has earned a whopping 400,000 followers on the new Vine app.
Night of Gospel Laughs is an annual event presented by Global Christian Event Network owned by Gbenga Omotayo. For more information, visit www.gcenmedia.com

Visitor Comments (3)