Capoeira meets Futebol: The Mystery of Brazilian Soccer
October 17, 2013 • By Billy Delgado
I used to tell my father I would love soccer if they cut the field in half and removed the goalies. He looked at me like I was crazy. He tried to get me into soccer, but without any success, because my 5 feet 8 inch chubby frame was in love with, get this, BASKETBALL. Yup. I even suggested they create a three-point line in soccer to bring a little more excitement to it. I mean, you sit there for like 3 hours and the score could end up being 1-0. That's a snore to me!
Lo and behold, an underground phenomenon was birthed. What the U.S. termed "Brazilian Rules" is a form of street soccer to players who don't have access to facilities they would otherwise have if they were in the league. It's like the And-1 Rucker Park version of soccer. Basically, street soccer is where players are encouraged to have flashy creative games to increase attendance. That's my kind of game, but what is it about Brazil and soccer? The two are synonymous. It's kind of like Colombia and coffee or England and teatime.
While Brazilians perform exceptionally well in the most organized of matches like FIFA's World Cup, Brazilian soccer has its own rich history of champions who have played the game with a kind of artistry and rhythmic choreography.
According to the Atlantic Slave Trade information provided by The African Studies Center and the MATRIX Digital Humanities Center at Michigan State University, approximately a third of the total slaves sent to the Americas went to Brazil. As a legacy of the slave trade, Brazil has the largest population of people of African descent outside of Africa.
Brazilian soccer players of African descent have helped create a brand of soccer that is not like any other across the globe. To get a grasp of Brazilian soccer, one would have to look into the history of its people, and you'll find the similarities of the game and the people's resilient fight for freedom through a martial art form called Capoeira.
So Berimbau music was played to help disguise these fighting dances. Interestingly, Capoeira is named after the type of grass the slaves would hide in before they would ambush colonists and make their escape.
If these Capoeiristas were successful at escape, they would find their way to remote settlements called "Quilombos" to dwell with other fugitive slaves. Anytime colonists would invade these settlements, they were met with great resistance by Quilombo warriors defending themselves with a "strangely moving fighting technique," which was most likely the "Ginga." The Ginga is a back and forth rocking motion that gave Capoeira its exotic choreographed appearance.
So you can imagine this wonderful fighting art evolving and finding its way into Brazil's greatest entertainment export: "Futebol."
"[Brazilian soccer] requires hit skills, quick thinking, coordination, hand and foot movement, and developing footwork," said Lucas Rodrigues, Brazilian-born Martial Arts Instructor at G3 America Martial Arts. "There's also a lot of hip movement to balance your weight so you can go anywhere [on the field] as quick as possible, and that's a benefit to put any martial art into the game, especially Capoeira."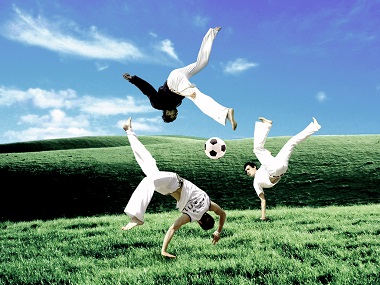 It's not hard to spot a Soccer player employing graceful moves that resemble some element of Capoeira- from high flying scoring kicks to footwork that can look like Samba dance steps. Some of Brazil's most famous players such as Pele', Garrincha and Zico played in poor conditions within their poverty. It's no different than the hardened flashy street basketball player you would find at Rucker Park in Harlem, New York.
"Primarily, kids have played since they were little, where they begin to develop coordination. If you notice, there is a lot of hip movement, and Brazilians are known for dancing….I guess it's in the genetics," said Rodrigues.
I'm hoping to one day check out a live game of "Brazilian Rules." I just hope they got rid of the goalie and have placed a three-point line to speed things up -- though I doubt that will ever happen. I guess that would be like asking to take dribbling out of basketball.
Check out this video that blends Capoeira and futebol in a breathtaking way.
America has generally yawned at the world's most popular sport but I think "Brazilian Rules" may change the perception of soccer in the United States. Meanwhile, Capoeira may help capture the imagination of those who never considered how one physical sport can affect another.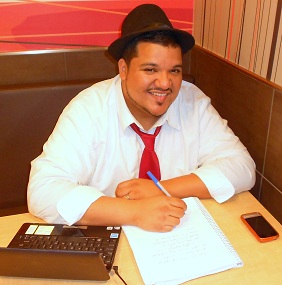 The self-proclaimed Zig Ziglar of rap, Billy Delgado, is a Music Producer/Artist and Writer by day and sleeping pillow-drooler by night. He is currently producing the debut album for his band The 288's, a God-inspired Hip Hop/R&B group that combines soul-baring lyricism with an electric innovative sound, breaking from the norm and reaching all cultures & ages (save senior citizens). He still can't believe he's a family man with a beautiful wife Mari & three boys Chris, Nelson and Joshua, so he continues to pinch himself silly to this day.

Visitor Comments (1)