Film Review: The Long Walk was Necessary
December 25, 2013 • By Tiffani Knowles
I have cherished the ideal of a democratic and free society in which all persons will live together in harmony and with equal opportunities. It is an ideal which I hope to live for. But, my lord, if needs be, it is an ideal for which I am prepared to die.
Nelson Mandela directed the above poignant words at the judge presiding over his case at the famous 1963 Rivonia Trial concerning his "terrorist acts" against the nation of South Africa.
He was the first accused in a group of nine members of the African National Congress who performed acts of sabotage – blowing up empty government buildings and power plants – in an effort to force the racist government to take notice and abolish apartheid.
After reading the book and now watching the film adaptation, Mandela: Long Walk to Freedom, I am convinced that all things work together for good.
As hateful and violent as the 42-year regime was, there was a reason the struggle against it was not won in a few short years. There was a reason that Mandela and his comrades weren't sentenced to death as it was expected but instead sentenced to life imprisonment on Robben Island. There was a reason that Mandela was kept away from his family and society for 27 years. There was a reason that President de Klerk came to power and was a staunch Calvinist who believed he was appointed by God to do something great. And there was also a reason that Mandela chose only to accept his freedom after all racist laws were abolished and a free election would be instituted.
Each aspect of the struggle came with a lesson about mankind, about our prejudices and about our greatest hopes and fears. These lessons were for all of us, but most of all for Mandela – who would rise to become the greatest statesman of our time.
The learned lawyer had to experience the pain of mindless, menial labor, this prideful Xhosa man had to hear the news of his son's death by telegram while helplessly mourning him in prison, the husband and father had to be acquainted with estrangement from his wife and daughters to cultivate the resolve needed in the movement.
Idris Elba, who played Mandela, beautifully depicted the emotional transition the freedom fighter underwent while imprisoned; from a revolutionary firebrand to a cool-headed negotiator.
He showed us the true relief a man can feel when he reunites with his wife (Naomie Harris) after years of righteous longing. And he also demonstrated a rare conviction, when faced with the disloyal behavior of the wife of his youth, he chose to separate from her to preserve the peace of the movement. Could this have been you? What lesson did this teach you about your own principles?
One of the biggest lessons for me in watching this movie was that justice must be felt by all; otherwise, it means nothing.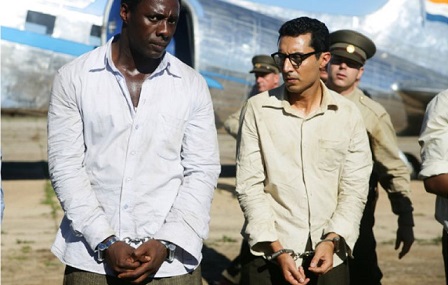 Ahmed Kathrada, played by Riaad Moosa, was the character in the movie that rent my heart in two. Even though he was a South African-Indian, he joined the ANC's anti-apartheid movement that mostly rallied Black South Africans to fight the power.
His participation won him a sentence right alongside Mandela and seven other non-Indian ANC colleagues.
Crazy thing was that, based on the apartheid system, Kathrada was on a higher rung than the Black South African. He was listed just under White in classification; therefore, he would never be subject to as much abuse as his Black counterpart. Evidence was clear in prison when he was given proper trousers while his comrades were given short pants to work in.
After years of being ripped away from his family and Islamic customs, this man never resented his involvement yet remained loyal to the struggle until he was released in 1989.
This kind of unselfish devotion is the kind that should inspire us all to greater dedication to any and all causes. We need be ready to die for it.

Visitor Comments (0)
Be the first to post a comment!