4-Year-Old Designer is Big Hit at NYC Fashion Showcase
June 3, 2015 • By Tiffani Knowles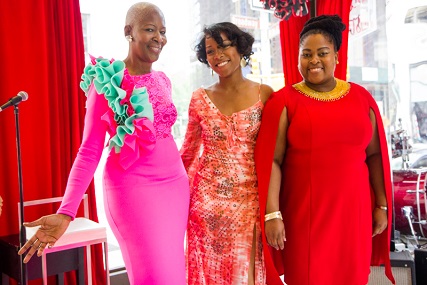 Bright spring colors of lace, silk and neoprene as well as the amusing designs of a precocious 4 year old stood out at Les Lotus Noire's Designer Fashion Brunch this past Sunday, May 31 at Toshi's Living Room inside New York City's Flatiron Hotel.
Presented by Stacey Delpeche and Karen James, new event and talent management company Les Lotus Noire treated a primarily Caribbean-American audience to a gourmet brunch, steel pan music by Wayne Commissiong and the exotic fashions of designers Kimmystic.Clo, Bedeau, Tre'L, Kemonae Designs, House of Goodluck and John Ashford.
"We want to expose talent from the different parts of an event. To put on a successful event, you need caterers, you need designers, you need makeup artists, etc. The person who is having the event usually wants to look fabulous, so fashion is a big part of any event," said James, native of the island of Dominica.
Clad in a pink, form-fitting gown with a cascading neoprene shoulder adornment courtesy of House of Goodluck, was show moderator Janice Lawrence-Clarke, a fashion consultant and founder of Caribbean American Fashion Exchange.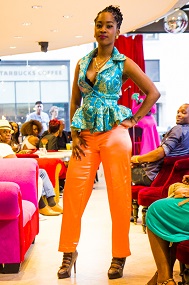 "I appreciate what Les Lotus is doing because it is also my mission, to present Caribbean culture in a professional and different forum. After this, I would love to work with them again," said Lawrence-Clarke, a native of Trinidad and Tobago.
While Caribbean talent was part of the mission, three stand-out designers actually hailed from Brooklyn, NY.
Designed by Shakeema Thomas, KeMonae Designs was a collection of women's ready-to-wear styles for the junior client, boasting fabrics of lace, silk and stretch-knit. Her lightweight denim jacket with oriental patterns, oversized collars and peplam flair could be worn on any spring or summer day.
"I love designing for spring, spring is so warm, there is such a vibrancy about it," said Thomas.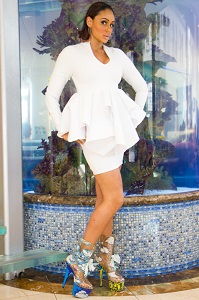 Designer Patrice Harris of the House of Goodluck creates made-to-order custom clothing at her Canarsie, Brooklyn design studio.
According to Lawrence-Clarke, she has the ability to create a well-fitted and suited gown from a mere photograph of the intended wearer; audiences were amazed at how well Harris' pink gown fit the vibrant show moderator.
While some of Harris' elaborate designs appeared meshy and breathable, some carried the illusion of heavy and weighty. She primarily uses a material called neoprene – one that is widely used to make a diver's wet suit.
"There are two types of neoprene: lightweight and heavyweight. I created the peach jumpsuit from the lightweight material and the bottom of one of the dresses was heavy," said Harris, who started making clothes from her mother's bed sheets when she was a child back in Trinidad.
Her designs were paired with the avant-garde shoes of John Ashford, which at first glance did not seem functional or walkable.
Ashford claims nothing could be further from the truth because he was trained by a shoe cobbler in Naples, Italy who only made soft walking shoes. He learned there that every shoe must be made for "comfort first and crazy second."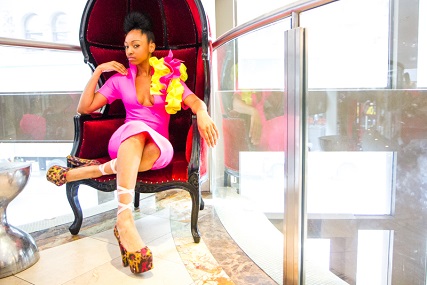 His crazy component was met as several of his one-of-a-kind shoes featured stillettos, plastic frames and nails jutting out from the front.
"Some of what you saw were eco-friendly shoes made from 20 melted water bottles and I added the nails. The name of the shoes is Airport Security because my plan was that no one would be able to get into an airport with these shoes," said Ashford.
The highlight for audiences was the bubbly batch of pre and elementary schoolers who bumrushed the runway donning graphic tees, tutus, aviator glasses and kid blazers courtesy of Tre'L.
Tre'L is a company that features the designs of 4-year-old Tre'sor Clemons who collaborates with her marketing specialist mother Chanel Clemons and her fashion-forward uncle Lamel Bannerman and creates designs that are both kid-approved and trendy at the same time.
"We normally shop at Sax 5th Avenue, so when we walk into stores like Children's Place, she'll say 'Mommy, we came in here for T-shirts? I'm not shopping here.' So that's why we started making her own shirts, something that's dressy and not just Rainbow Brite and other characters, she wants to express herself and something that's not the typical girly girl image," said Chanel.
Tre'sor, an exuberant preschooler who is a rising kindergartener at Success Academy, creates collages from magazine cutouts as inspirations for her shirts.
"It started as a mommy and me project because I wanted to find some fun activity to do with her other than just sports and dance. It's now our lifestyle," said Chanel.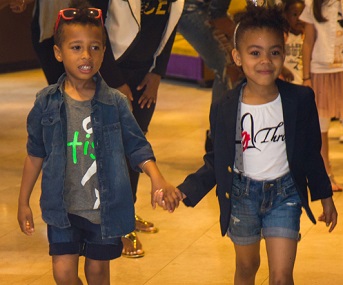 Tre'sor enlisted her school friends and playmates to model her line alongside herself at the show. When the entire crew came back for their final bow, she grabbed her friends and took off their blazers and vests so audiences could get a better look at her nifty designs with phrases like Lil Fashionista, Next President, Geek Chic and Foodie Life.
Tre'sor didn't apologize for her bold move because she said that "mommy always says to take off your jacket when you come on stage."
Attendee Kevin Howell was happy to witness the bold fashions present at Les Lotus Noire's Designer Fashion Brunch because he was scouting designers for his own upcoming fashion event called Fashion in the Black as part of the Go Caribbean! Int'l Business & Investment Expo.
"We are looking for both Caribbean and African-American designers who would like to compete for exposure and investment opportunities this year," said Howell, founder of Anchor Strategy Group.
To find out more about Les Lotus Noire, visit their company website.
Photo Credit: Zowi Stapleton for www.thegreatzeee.com

Visitor Comments (0)
Be the first to post a comment!