HOLA AMERICA: Book on Immigration Responds to Election
April 19, 2016 • By Tiffani Knowles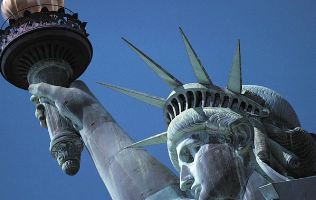 In light of this year's election in the United States and the brouhaha surrounding immigration -- from building a wall surrounding Mexico to the ban on Muslims entering the country to the proposal to end birthright citizenship – my father and I decided there was never a better time to publish the book we've been working on for about a year: ¡HOLA AMERICA!: Guts, Grit, Grind and Further Traits in the Successful American Immigrant.
Today, the tapestried story of immigration has been relegated to a pile of documents, policy issues and statistics. But where are the humans in the discussion? Who are they? Do they matter? And have they contributed as much to the country as the country has contributed to them and their families? We say yes.
Republican presidential candidate Donald Trump has chosen to forget the symbiotic relationship that America has had with its immigrants. In an effort to "make America great again," he has proposed that, if elected, he will erect a border fence and deport all the 11 million murderers, rapists and thieves that neighboring countries have unceremoniously dumped on America's land.
Ironic. He needs only to take a cursory glance at the historical record to see how America achieved this assumed "greatness." It was through the blood, sweat and tears of Southern Italians and Irish, who in New York were good only for the most precarious jobs in the city – fire and policemen. It was on the backs of Eastern Europeans who built Hollywood from the ground up. And, if we look at the ultimate immigration movement in history – the Atlantic Slave Trade – then we must admit that our country's "great" economy was also built on the free labor of African immigrants.
Did we ever stop to wonder what happened after the slaves were freed and Blacks moved north?
If America were to continue being "great," it needed a new source of labor. So, as early as the turn of the 20th century, the U.S. imported West Indians as contract workers. Immigrants were valuable because they were cheap labor as farm and hospitality workers, teachers and nurses.
My mother, a Jamaican immigrant, who moved to New York to study art and then settled in Florida to teach for the Miami-Dade public school system and my father, who migrated from The Bahamas to Florida because of his work in the travel and tourism industry were among an influx of Caribbean immigrants in the 1970s.
Miami is the epicenter of immigration in the state of Florida and Greyhound buses are the preferred mode of transportation for people on the lower economic scale. As a franchisee of the North Miami Station, my father helped thousands of down-on-their luck travelers passing through his station and dozens of immigrants to receive gainful employment at his location.
So, yes, America, ever since its founding, has always been attractive to people who are down on their luck, but America, ever since its founding has also sought out those same people to give them a chance in the land of opportunity.
Today, you need only look to the citrus industry in Florida, the apple pickers in the northern states or the domestic caregivers across the entire country to see how the legacy continues. Immigration – it is inextricably woven into American history and the
American economic and social fabric.
In this book, you will find the stories of 10 successful American immigrants. Each story will inform readers about a man or woman who left a developing nation such as Nigeria, Cuba, Jamaica, etc. seeking a better life for themselves and their families in the land of the free and the home of the brave. It will chronicle their struggles of being partially documented, underemployed and over-worked as well as mark their successes in attending college, finding gainful employment, establishing businesses and leaving a lasting legacy for their family.
In each story, you will read of a valuable trait possessed by that immigrant, applicable to any human seeking to advance in life.
The accounts in this book answer the questions that many immigrants and non-immigrants have wondered.
For instance:
How can you get a green card through a company when you possess a rare talent?
What do you do if you're a single mom raising immigrant boys in the big city?
How do you successfully navigate an educational system that's foreign to you?
What do you do when you're alone in the U.S. and your entire family is back in your home country?
How can you make a living in the U.S. even while only partially documented?
How do you keep your head held high when everyone refers to you as a "second-class citizen?"
What is the difference between the "Old" & the "New" Immigrant?
In ¡HOLA AMERICA!, we will tell you immigrant stories from their perspectives and, hopefully, counter the fallacies that pundits like Ann Coulter and Donald Trump have popularized merely because these people look, speak and do things differently.
The book is available on Amazon Kindle for pre-order and can be read on any mobile devices with the Kindle app. It is priced at $3.99 as it is a short, yet moving read. It releases across digital devices on April 26, 2016 – just in time for a major Northeastern primary election.

Visitor Comments (0)
Be the first to post a comment!