Amazon Offers HOLA AMERICA Book to Readers Free of Charge
January 4, 2017 • By Tiffani Knowles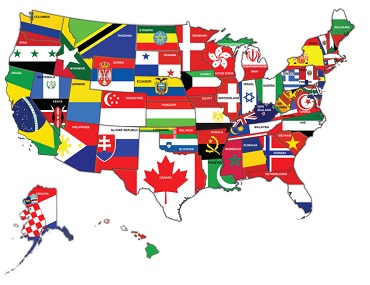 As we turn the tide in the coming weeks from an eight-year Obama administration to a never-before-seen, alt-right Trump administration in the United States, our publisher Amazon KDP has chosen this week in January to offer a free giveaway of the digital version of our book -- ¡HOLA AMERICA!: Guts, Grit, Grind and Further Traits in the Successful American Immigrant.
Why this week, you may ask? Perhaps– like all of us – Amazon also has a stake in the immigration game.
Amazon– among other notable technology companies like Facebook and Google – is notorious for offering median salaries of over $100,000 to H-1B applicants – foreign workers with extreme talent in mostly technical fields - according to 2009-2016 records in the Office of Foreign Labor Certification (OFLC).

And Amazon may have it right. According to our book, the traits that Amazon and other employers across the country are in search of, they haven't found in the typical American worker.
After years of research and keen observation of the coastal immigrant communities, my father and I pinpointed 10 traits that make the immigrant more successful than the average American. They are traits that if any person – immigrant or not -can learn and adopt, they too, can be just as successful.
Here are five of those traits.
1. Guts - The thing that requires the most boldness, the most steel is to pick up and leave everything you know for a land with no guarantees. To be a successful immigrant in America, guts is a non-negotiable trait. You can't look back; otherwise, you won't last. In the book, we tell the story of Jamaican widow Purliter Coombs who raised five boys on her own in The Bronx, New York after her husband died on American soil.
2. Grit - Every immigrant knows that you don't save months of pay, leave your family behind then fly, boat or raft onto America's shores for an easy shot at freedom. They prepare for things to be tough. They prepare
for hardship, for sleeping on a cousin's friend's floor for a year, for cleaning up adult excrement for less than minimum wage, for eating beans and rice twice a day. But, what a successful immigrant does is sink his/her teeth in. There's no backing down after you make the decision. Therefore, if Trinidadian Shairah Sankar can survive after living below the poverty line as a nanny to make a success of her life, then there is hope for anyone.
3. Grind - Hard work is an understatement. Serious immigrants prepare to work five times as hard as the native. It's about the grind. Seeing as you cannot file for food stamps, student grants or loans, or government-subsidized housing when you first arrive, you have to be willing to work long, hard hours. One job won't be good enough. Two may keep you afloat. With three jobs, you can actually send remittances back home. Three's the charm. We tell the story of Indian Pharmacist Beena Patel who had no support system, re-educated herself in the U.S. and now is a treasure in her community of Lake Wales, Florida and consistent pick for Pharmacist of the Year.
4. Gregariousness - No immigrant can survive an entirely new country without building a support system. For the people who migrate to the U.S. with family and friends already in place to receive them, it makes getting acclimated much easier. But, for those with little to no network of people who can teach them how to catch a bus in the city, how to dress for the weather or which family just lost their nanny, living in a foreign country could be next to impossible. The story of Jamaican nurse Monica Johnson is about striking up friendships with others, regardless of if they look like you or not. Being unafraid to develop relationships with your fellow countrymen living in the same city, other immigrants who've made it and native-born Americans gets you where you're going…and fast.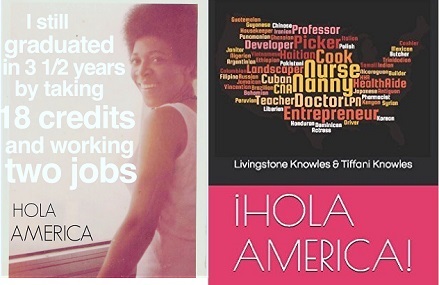 5. Fearlessness - Immigrants are notorious for either eliminating apprehensions enough to tackle new experiences or facing their fears head on so that they thrive as fish out of water. They aren't the type to wait around for things to happen. They make things happen. Whether it be asking for that promotion on the job, seeking out new opportunities to start a business or knocking on the doors of those with the capital they need to start that business.
We tell the story of Haitian-born theater actress Bianca Horn as she tackles a career in an appearance-first industry with rotting teeth and a steely will, working her way up to roles at national touring companies and landing international theater contracts.
We tell 10 stories of different immigrants in this awe-inspiring book. It feels like fiction but is absolutely the truth. While the paperback is currently $9.99, Amazon KDP is offering the e-book free of charge now until January 8. Just buy the Kindle version (which can be read on any mobile device with the free app) and hit "Buy now with 1-click" to receive your free digital copy of ¡HOLA AMERICA!: Guts, Grit, Grind and Further Traits in the Successful American Immigrant.

Visitor Comments (0)
Be the first to post a comment!