Just Thinking: Intersecting God and Politics
February 15, 2019 • By V. Knowles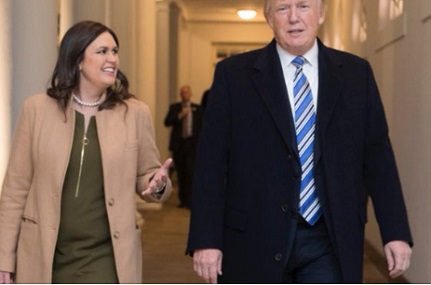 Sarah Huckabee Sanders said recently on the CBN, God wanted Trump to be president.
Once you say that, it has to be demonstrated to an unbelieving, cynical world that his election is a God-ordained act. Words alone are insufficient to prove your case because history has taught us that men have invoked the name of the Lord and spiritual terms to convince people of their position and bend them to their will. The lying prophets in the Bible (Jer. 23, Ezek. 13) and occupants of the papacy are prime examples.
More recent examples were the alarming cries of the looming disastrous millennium bug of 1999, heavily promoted by the church, the lecherous, unfaithful priests and pastors such as Bob Coy and Ted Haggard. Christianity in America has lost its currency and much of its luster with the people it was designed to reach and convert--the unsaved. It has become a closed shop to evangelicals who are among Trump's most ardent supporters, who see only a persecution of a "sound" man by unredeemed, unrepentant, leftists liberals. Never mind Trump's obvious moral failings which are conveniently explained away by references to Cyrus, David and Paul the Apostle. The latter comparison is thoroughly implausible, seeing that Paul after his dramatic encounter with the Lord Jesus on the road to Damascus, never looked back, and became an unapologetic follower of Jesus, clearly seen in his writings (tweets) and his manner of life. Can anyone really, honestly say that about Trump without a Pinocchio experience?
They are not convincing anybody beyond his political base and Trump clearly is not and obviously incapable of appealing to a wider swath of the electorate.
His supporters are the kinds of people who would explain away Trump's assertions.
"I can shoot somebody on fifth avenue and would not lose any votes."
"We are going to build a big beautiful wall on the border, Mexico will pay for it."
"I knew nothing about any payment to Stormy Daniels, you would have to ask my lawyer, Michael Cohen." That is the same Michael Cohen who now faces 3 years in prison for his misdeeds, some at the direction of Donald Trump.
Why do I say such things?
Why am I so blind?
Why can't I see the move of God in all of this?
Because the commandment says, that we should love God with all our heart, all our soul and all our MIND. There is a mental logical reasonable aspect to serving God as well. If it looks like a duck, quacks like a duck, it is probably a duck. How about "by their fruits ye shall know them" or the reasonable expectation to find figs on a fig tree during fig season? (Biblical students will get the inferences).
I know faith in God is sometimes believing that which we cannot see, but sometimes seeing is believing and many times in life one plus one equals two.
God has not spoken to me, as I sincerely hope that he has done to many believers and supporters of this vile man. I am not a prophet or a prophet's son. I take life as it comes trusting in God that he will bring me out all right in the end. I trust that they are not asking God to confirm their will and using spiritual visions, terms and scriptural references to twist other people to agree with their assessment, despite what is unfolding before their very eyes on an almost daily basis.
Indeed, a move of God should not be so esoteric, deep, dark and mysterious. Godly acts should be obvious to even the most simple-minded and unsophisticated sheep amongst us. It is not difficult to understand, "thou shalt not commit adultery" and "thou shalt not bear false witness." Anything you do under the direction of God should not require a multitude of words or a myriad of shifting explanations.(There is certainly no ambiguity nor confusion in those terse statements, a stark contrast to the recent dustup between Trump and his national security advisers that prompted the puzzling headline, "Trump says, he and his security advisers are now on the same page.")He says let your yea be yea and your nay be nay. It should be clear to a dark, unlit world in accordance with the scripture, clearly mandated by Jesus, "That men may see your good works and glorify your father in heaven."
It may still happen because I dare not restrict the hand of God because of what I see today. With God all things are possible and He is still well able to steer and influence--not force or cajole by fear and intimidation- all men to conform to His will.
Nevertheless, up to this point, as evidenced by the following responses to the Sarah Sanders' declaration, the jury (no pun intended) of our peers is still out on this case.
Donald,
"God wanted both Trump and Sarah to be honest"
There are no Socialists,
"Well then I guess God also wanted Obama, George Bush, and Bill Clinton to be president also. Why should anyone even bother voting?"
Way,
"Then I guess God also wanted Mueller to run the investigation."
PatCat,
"Wouldn't that mean that God wanted Obama to be president and Clinton, but he didn't want Palin to be VP? I mean what evidence does Sanders have other than he was elected?"
Cronane,
"I would like to hear Sarah talk less another faith, & instead DEMONSTRATE her faith in her work. That would mean NO LYING OR DISSEMBLING, but a real commitment to truth & love as modeled by Christ. You a Christian? Let's see you model that faith, then I'll believe you.
I would like to remind Christians everywhere that the main thrust of Christianity is not to persuade people to accept Trump as a gift and desire of God, not to squander so much spiritual, ethical and moral muscle on such a mundane earthy political pursuit, but to convince people by our deeds to draw people like Cronane and the other skeptics above to the Lord Jesus.
God help us all.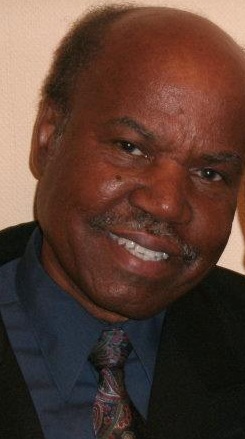 V. Knowles is a husband, father and prison minister with an interest in penning issues that serve to uplift mankind. He melds his love for Classic literature, The Bible and pop culture - as sordid as it may be - into highly relatable columns of truth, faith and justice. Hence the name: Just Thinking. If he's not buried in a book or penning his next column, you may find him pinned to his sectional watching a good old Country and Western flick. He is also the co-author of HOLA America: Guts, Grit, Grind and Further Traits in the Successful American Immigrant

Visitor Comments (0)
Be the first to post a comment!