Just Thinking: Separation Helps No One
May 1, 2019 • By V. Knowles
If you bite and devour each other, watch out or you will be destroyed by each other. Gal.5:15
Dateline: Simpsonville, South Carolina, Police won't press charges against a teen who held a gun and a sign that said 'We hang n****** for free'
Dateline: Castle Rock, Colo, Maya Elizabeth Mckinney, 16 year old suspect in school shooting, identified as transgender, had been bullied for it.
Kindness has been evicted from our consciousness. To be gentle and tender-hearted seem to be lost and forgotten. Being cruel to one another has overwhelmed us and taken the day. It assigns each and everyone of us, based on our ethnicity or cultural identity, into separate unpleasant cones from which we continually assail each other. From our grotesquely hypocritical perches, we demonstrate a swiftness to assault each other, thoroughly dismissing the biblical references, "we have all sinned and fallen short of the glory of God, and there is none righteous, no not one."
We harm ourselves by completely ignoring, "A cheerful heart is good medicine, but a crushed spirit dries up the bones." Proverbs 17:22
We live ina world dominated by Satan, trapped in a body that was born in sin and shaped in iniquity. Hence we are not naturally inclined to be kind, compassionate, sympathetic to each other's pain, or predisposed to extend the effort to bridge the divide and expanse between us. It takes discipline and hard work to "rise above our raisin.' " Yet sometimes, motivated by that unseen altruistic impulse, we get up, do it, and it inspires all of us that hope is not lost and there is still some decent, unselfish behavior and attitude left in the human soul.
A few weeks ago, Jamario Howard and his friends were sharing a meal at Brad's Diner in Oxford, Alabama when he saw the senior sitting alone.
"My exact thoughts [were] 'dang I'd hate to have to eat alone,'" Howard recalled on Facebook.
So rather than allow the woman to continue dining by herself, he crossed over to her table and asked if he could sit with her for a while.
Howard and the woman, who was later identified as Eleanor, began chatting and swapping life stories – and as they continued to chat, she mentioned that her husband had recently passed away and it would have been their 60th wedding anniversary the following day.
"I instantly gave my condolences and asked her to come eat with us, which she was excited to do," writes Howard.
The greatest traditions sometimes start by accident, or perhaps by God's design to unite you with "that unknown grandson."
Just ask Jamal Hinton and Wanda Dench. The Tempe teen and Mesa grandmother were brought together last year by an accidental Thanksgiving invitation text message because the young man had the same number as her actual grandson. Despite their obvious different cultural backgrounds and races they have come to the conclusion they can be friends and decided to continue the tradition borne from a "mistake."
"It was really nice having everybody here," Dench told The Arizona Republic. "We got to laugh about last year and reminisce about how it all blew up on our phone and how I had to change my number. We had a laugh and a good time."
Many things in life are beautiful indeed--a radiant rose, a regal eagle, a majestic mountain. But so is a meal between former strangers, now friends, who previously had nothing in common, now discovering, to their delight, their shared humanity. In such beauty, Bible scholars explain, we get a glimpse of the perfection of God's creation—including the glory of His perfect rule to come.
We can only imagine such perfection, so God grants us a foretaste through life's beauty. In this way, God "has also set eternity in the human heart."
Some days life looks drab and futile. But God mercifully provides moments of beauty to ponder. There can be profound beauty, breathtaking elegance, joyful experiences in the way we interact with each other.
Consider the internet responses to those basic, simple acts of human kindness.
"Ooooh! So cute, so adorable."
"Such a beautiful gesture."
"My heart is refreshed."
"This makes my day"
"My faith is restored, I believe in the goodness and kindness of people again."
So out of keeping with today's climate of meanness, it caught the attention of the former network home of the late news titan Walter Cronkite. It was featured in an episode of the long running series, "On the Road."
Robert E. Townsend of Georgia was particularly poignant and prescient about his friend Buck Williams with whom he was always at odds, due to profoundly different opinions about religion and politics.
When he died 2 years ago, it left a big hole in my life and in my heart; one that has yet to be filled, and probably never will.
I have thought of this often since the church, the United States, and the world are so deeply rent with dissension. In each case, there is much more that unites us than divides us. Yet, in each case, we are letting those differences—as important, fundamental, and deep-seated as they may seem to be—get in the way of our common calling, identity, and purpose. If things continue to intensify as they have lately, we may lose the church as we know it and/or find our world irreparably divided. And that would be an unspeakable tragedy.
Despite our harsh and rough exterior, inside we are sad and lonely creatures, keenly aware that it sucks to be or eat alone. Oh! how we yearn for that approving glance, that tender word, the attentive ear, that pleasant smile in the face of another across the table.
Think about the interaction between hardened criminals, murderers, rapists, child molesters and thieves, and the animals placed in their care to be trained as " seeing-eye" dogs for the blind. Now think about Dylann Roof, Steve King, Donald Trump, Louis Farrakhan, and those denied access to social media platforms.
Will we ever learn? We are one, the children of the same parents with a father who loves us unconditionally, and wants us to treat each other with kindness, love and compassion.
Perhaps we can start with Jamario Howard's response to Steve Hartman of CBS News:
"I am not smart, I am not wealthy, I am not famous, I probably will not be President, but I can be kind and take the time to make some body smile.
Think about such a small step, such a seemingly insignificant investment in another human being, with the capacity to yield a massive return that is irreplaceable and priceless.
May God bless you.
May you see your tribe increase.
May we always have a place set for you.
May your kind always feel at home amongst us.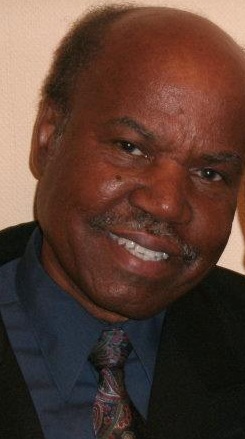 V. Knowles is a husband, father and prison minister with an interest in penning issues that serve to uplift mankind. He melds his love for Classic literature, The Bible and pop culture - as sordid as it may be - into highly relatable columns of truth, faith and justice. Hence the name: Just Thinking. If he's not buried in a book or penning his next column, you may find him pinned to his sectional watching a good old Country and Western flick. He is also the co-author of HOLA America: Guts, Grit, Grind and Further Traits in the Successful American Immigrant

Visitor Comments (0)
Be the first to post a comment!