How the Military Birthed Musical Career for Retired Captain
September 21, 2020 • By Tiffani Knowles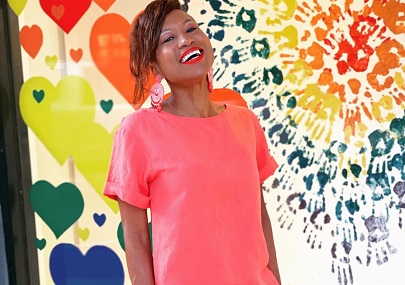 When Maxine Reyes was a little girl, she loved to sing. But her family – being immigrants from the tiny island of Jamaica – had very little to pay for private musical training, productions or fine arts education. So, she joined the U.S. military.
"I was scared of becoming a starving artist," said Reyes, who migrated to the U.S when she was a freshman in high school. "So, I decided to join the military and get the full benefits of adventure, education and camaraderie."
As quiet as it's kept, she also said she knew the military was a great place to find a quality husband.
In 1996, she joined the Air Force. After 11 years in the force, she switched branches (which is quite rare) and joined the Army as an officer.
Even while training, performing 5-mile runs, completing early-morning hikes and military globe-trotting, Reyes maintained her love for music.
"If I wasn't singing, my fellow officers would question if I was feeling okay," she said.
Three years before joining the military, Reyes had won the Clint O'Neil Talent Showcase which was sponsored by Jahnet's Jamaican Cuisine and held at the Oleta River State Park in North Miami Beach.
"I cherished it so much because it was my first official talent show in the USA and I ended up donating that trophy to my primary school in Jamaica," she said. "That initial donation ended up becoming what is now the Doctor Bird Scholarship Award, celebrating 20 years in 2020."
It was only a matter of time before the news of her frequent pastime caught the attention of military higher-ups and Reyes was called to sing at military promotions and retirement ceremonies, then changes of command, military balls and, finally, embassy events.
"I even entertained the troops while I deployed to Afghanistan and Qatar," said Reyes.
As the military afforded her with worldwide exposure, Reyes was later invited to off-base and non-military events in uniform like at the NBA, MLB, NASCAR, and NFL opening ceremonies.
But, because of active military duty, she had never officially cut an album until 2020 — the year of the pandemic.
Now, as a retired captain, a two-time recipient of the Humanitarian Service Medal and Military Outstanding Volunteer Medal and the founder of the "Ignite Your Confidence Conference" for women of the military community and business, she is working full time on her music and has produced – with the help of renown musicians – two new singles — one is "Joy Unspeakable" and the other "I've Got You."
"My musical style is rooted in soul, seasoned with Caribbean accents and understood globally," said Reyes. "I've always wanted to infuse a mixture of sounds into my personal style. Artists like Kari Jobe, Kierra Sheard, Sinach, Lauren Daigle, Tasha Cobbs, KAnthony, and Bob Marley have all inspired my sound."
In fact, her Jamaican heritage has contributed greatly to her own musical signature.
"When it comes to reggae, the influence is in the message," she said. "If someone can find that my music has changed their way of thinking in a positive way and brought them spiritually closer to our Creator, leading their life by faith and not by fear, then I would have done my job as a singer and songwriter."
Even though her singing career took a detour after she joined the military, Reyes owes much of her musical exposure to the support of her fellow service men and women.
And you know the husband she knew she would find in the military, they met as teenagers at Keesler Air Force Base in Biloxi, Mississippi and both transferred to the army together. They got married in 1997.
In fact, the pair wrote a book together in 2018, boasting the secret to relationship resiliency called Happy Joint.

Visitor Comments (1)