Faith From China to USA
April 29, 2010 • By Tiffani Knowles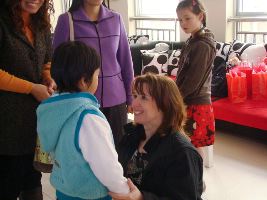 To separate oneself from the language, food and habits that one has been forming since birth is no small feat. It can be argued that these things comprise us and without them we stand to lose our very identity.
In the documentary film Wo Ai Ni (I Love You) Mommy, we are given a bird's eye perspective into the heart-wrenching experience of one 8-year-old girl who is taken from her native China and adopted by a White American family in New York in 2007.
From 2000-2008, China was the leading country for U.S. international adoptions and there are now approximately 70,000 Chinese children being raised in the United States.
Wo Ai Ni Mommy,
directed by Stephanie Wang-Breal, delicately yet incisively explores the sensibilities of both the frightened Fang Sui Yong of Guangzhou, China and the Jewish Long Islanders who adopt her. It reveals the true pros and cons of a growing trend, which some characterize as "saving" the underprivileged from their own peril.
Yet, the picture we see of the cherubic Sui Yong is not as piteous. The most tragic part of her story seemed to begin and end at her abandonment at a bus stop when she was younger. She was soon found by the Guangzhou Orphanage and given foster parents who offered her a nurturing, loving home environment.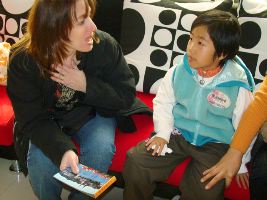 Enter Donna and Jeff Sadowsky, who had already adopted a 14-month-old girl from China, but would turn once again to the East Asian country in hopes of offering their now three-year-old Dara a big sister. They also have two biological teenage boys.
We see the mixed emotions Sui Yong is hit with as she gazes upon the milky white face and brown locks of her new mommy for the first time.
Fear at the sight of her very first White person. Confusion at the oddly-pronounced English words. Discomfort at her translator's prompting to utter an undeserved phrase to Donna: "I love you, Mommy." These feelings seem to flood her in succession.
The most definitive blow is when she is told that her new name will be "Faith" - a one-syllable word that she pronounces with unexpected ease. Her new namesake, although it may appear to initiate the severing of her Chinese identity, is what she will need - both literally and metaphorically - as she makes the testing transition to America.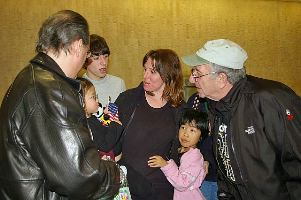 She makes the journey with Donna. And as if she can translate hugs, kisses and high-fives into actual phrases of reassurance, we begin to see Faith move from a place of timidity to happiness, drinking in every new American experience with eagerness.
She plays with new toys, calls her new father the most handsome man in the world, teases her new brothers and sister, and throws the most unbecoming tantrums.
Still, the loss of what some may deem the most treasured aspect of Chinese culture -- her language -- posits a most brilliant point of discussion about international, transracial adoption.
Is she less Chinese now than then because of her reticence and the halting manner in which she speaks Cantonese?
Wo Ai Ni Mommy presents this true-to-life story, but leaves this question unanswered.

Visitor Comments (0)
Be the first to post a comment!