Just Thinking: It's a Matter of Time
March 19, 2015 • By V. Knowles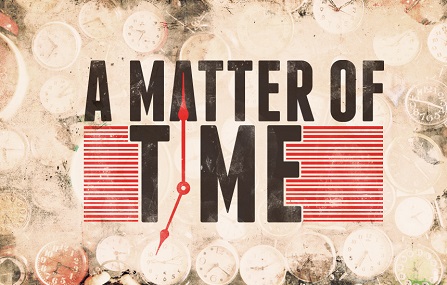 As you get older and nearer to that final big event in your life, you come to appreciate the value of time. It's amazing how precious time becomes when you realize how little of it you have left.
The community where I live is populated mainly by elderly and retired folks. It is remarkable how every activity starts on time, nobody wastes time or belabors a point and everything ends within the allotted time.
Instinctively they seem to know as the psalmist declares , "Teach us to know the number of our days so that we can apply our hearts to wisdom" so that we do not waste time on small insignificant matters so that we will, "redeem the time for the days are evil" and when they are gone they are gone forever.
Everyone in this area seems keenly aware that you go around only once in life.
So it grabs your attention when you notice in the News Chief, the local paper in our community all within the past month.
A 21 year old man is arrested for the murder of a 24 year old.
A 24-year-old mother of five children was detained for DUI, thereby causing an accident which claimed the life of her two-year-old daughter.
A 31-year-old man who has been imprisoned 10 times was drowned in a local lake while trying to elude police who was attempting to apprehend him for another crime.
A 17 year old involved in a car accident and trying to avoid questioning by the authorities lost his life by trying to hide in a lake. His body recently was discovered in thick brushes surrounding the lake.
I was further dismayed by an article in the Miami News about persistent recidivism in the Black community.
Then, an article about Black life 50 years after Selma caught my eye. We our development is still hampered by too many absentee fathers, high criminal convictions and incarceration, stubborn poverty and low levels of education.
When one considers the frailty of our bodies and the brevity of our lives it is astounding how one could squander time on activities that impact our short existence so negatively.
We have such a brief window of opportunity to make a difference that we cannot afford to waste a single precious moment.
Perhaps you need to rethink the message of the Savior that you rejected- that one where he offers you salvation, redemption, victory and eternal life.
You need to avoid sin, the evil it creates and the legacy of pain, destruction and woe it leaves behind, affecting your family and offspring sometimes for generations.
Do good. Love life and your fellow man so you may live long and prosper and leave a good reputation after you.
So, in the years to come, when men whisper your name, it will be with awe and love and not in hushed tones of abject horror and fear.
Stop wasting time in making excuses for not doing the right thing.
You do not have time for that.
While there may be some reason and justification to blame the other guy for your problems, life and God are not going to accept that for your failure to succeed. It really is a small consolation for missing the mark.
Man up.
Life, your family and God are demanding that you do it.
From this moment onward. Stop just for a minute. Consider your days and this sobering reality.
Ready or not, the hour is fast approaching when you run out of time and face the unpleasant prospect that it is time to go.
Here is the great inescapable tragedy in all of this one day you guessed you will run out of time.

Visitor Comments (0)
Be the first to post a comment!
Health columnist Shari Grant shares that there is a definite link for between female obesity and cancer. In fact, according to the study, women who are obese are about 41 percent more likely to develop the cancer.
The film Get Hard starring Kevin Hart and Will Ferrell aims to satirize a widely-believed stereotype that Black men in America are well-acquainted with prison life, but where did the stereotype originate?
A&E debuts a provocative new reality series on April 2 in which a pastor has eight minutes to convince prostitutes to quit their jobs.
Back To Archives