Body+Soul: Redefining Limitations
November 26, 2014 • By Shari Grant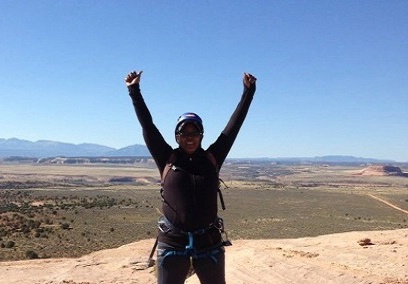 In April 2009, Andrea Nugent felt one of her chronic ear infections coming on. She called to schedule an appointment with her doctor so he could prescribe antibiotics. In passing, she asked the doctor about the results of a mammogram she had done months before. After being placed on hold, the receptionist said, matter-of-factly, "Oh yeah the doctor would like to see you right away." And so her journey with breast cancer began.
I met Andrea Nugent long before the opportunity of interviewing her, years ago in fact. I remember my impression of her being that she was kind, intelligent, and to me at the time, simply my track coach's daughter. I never thought further than that. But this past October when she stood at the pulpit before Evangel Church's congregation, I had goose bumps. This was not a woman who could ever be described as simply anything. She was a warrior. A power to be reckoned with. Cancer was tugging at her life, but she ignores its pull and continues to rise. Her life, far from over, is a tour de force that encourages everyone, no matter gender or walk of life, to push forward to the high calling of God in Christ.
After more than five years of dealing with Stage 4 metastatic breast cancer which has now spread to the liver, I asked Andrea if she had ever grown tired of fighting the illness and thought of giving up. She shared:
I have good and bad days and sometimes I wonder how much I can take. There were times I asked how much more of the treatment my body can take. Not knowing if I could fight five more years or 10 more years. But I found that once I stopped looking at it long term and made a decision to take it one day at a time it got much easier. I now just worry about getting through each day one day at a time. No, I have never thought about assisted suicide. It is not an option for me.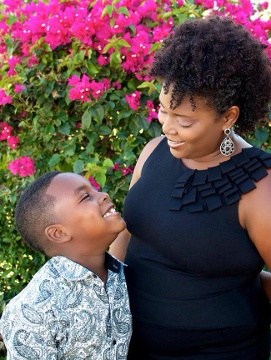 In the day to day decision to feel her best, Andrea has cut soy and sugar out of her diet as much as she can, even juicing and, as much as her energy allows,
exercising. In keeping with her active lifestyle, she attends different retreats aimed at cancer survivors and fighters, enjoying kayaking, rock climbing, stand up paddle boarding, etc.
Not only is she a single mom to 4 sons (one who is biological, the others are foster), but she's the founder of a non-profit organization, B.I.O.N.I.C. Girls -- whose aim is to provide various services and support to cancer warriors and survivors. She's also the author of a children's book, Mommy is Still Mommy: Cancer Can't Change That, which her son, Zachary, inspired when she was first diagnosed.
My son was 2 years old when I first got diagnosed and I wondered how he felt watching me go through the different cancer effects. I lost my hair, my eyebrows and eyelashes, and gained 40 pounds in 3 weeks so I barely recognized myself when I looked in the mirror. I just kept thinking does he still recognize me as his mommy. I wanted to include him in my journey and talk to him as much as possible about all the changes. I also wanted to help other women diagnosed with cancer who found it hard to talk to their children about cancer. My book is designed to be a conversation starter that fosters heartfelt conversations between a mother and her child/children. It is also designed to empower mothers diagnosed with cancer to remember that no matter what, they are still who they are.
When asked what role faith has played in her journey, she attributes her survival to it, saying, "Without my faith, I do not know what state of mind I would be in. I'm thankful to God that He did not give me the spirit of fear or a spirit of depression. Because of faith I have a calm spirit. I choose faith over fear."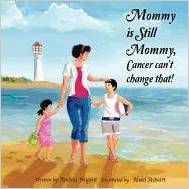 It's easy to think of a few clichés and well-used verses that people dole out when seeing others faced with various trials, but to truly make the decision to allow faith to dictate your view on your life, despite the storm around you, is no easy feat.
I asked Andrea what three things she wanted people to think of when hearing her name. She answered:
That I am a living testament to God's grace.
That life does not end the day of diagnosis.
And that I don't let my limitations define my life, rather I choose to redefine my limitations by living my life.
Woman. Daughter. Mother. Author. Warrior. Leader. Encourager. Child of God.
No matter what the rest of her journey will bring, she will never be a quitter. She will never be a victim. And for that, thank you Andrea.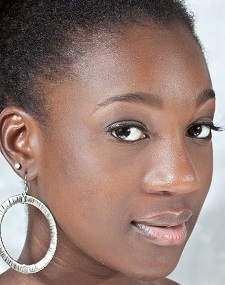 Shari Grant is a Registered Nurse in South Florida, where she was raised in a (very!) Jamaican home. Some of the loves of her life are words (both reading and writing them) and missions work. She enjoys spending time with friends and family while living for a good laugh - one that makes her belly ache and her eyes water. Her bottom line goal in life is to make the Lord smile and maybe even serve Him up a chuckle from time to time, too.

Visitor Comments (0)
Be the first to post a comment!
Demonstrators take to the streets to protest the verdict against Officer Darren Wilson who killed 18-year-old Michael Brown. But, is this loss any different than the ones suffered by Corrie ten Boom, Nelson Mandela or Manie Till?
Popular megachurch Mars Hill Church won't be around to welcome home the victors of the Super Bowl 2015 if the Seattle Seahawks do indeed win again this year. The church will close down its mega operation on December 31.
Several Bill Cosby live comedy shows have been axed as "America's dad" – now 77 years old - continues to face allegations of sexual assault.
Back To Archives