Renown Pastor Myles Munroe and Wife, Not Daughter, Killed in Plane Crash
November 12, 2014 • By Tiffani Knowles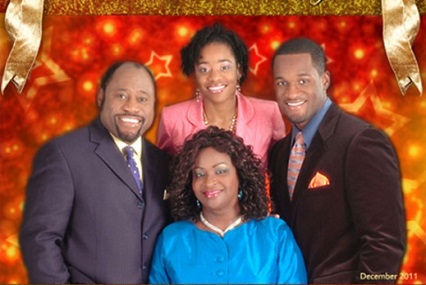 Millions are mourning the loss of internationally-renown author, pastor and motivational speaker Dr. Myles Munroe, 60, and his wife Ruth after a tragic plane crash on Grand Bahama Island claimed their lives and seven others on Sunday, Nov. 9.
Earlier reports by Charisma News, stating Munroe's daughter Charissa also died on board, swept social media but were inaccurate. Both Charissa, 30, and her brother Myles Chairo, 29, are alive and have since visited the site of the crash, a Freeport shipyard.
Munroe's private Lear 36 Executive Jet took off from the Bahamian capital of Nassau and crashed about 5 p.m. local time Sunday, as it was coming in for a landing at Grand Bahama International Airport in Freeport. The plane hit a crane and exploded on impact.
The group was on their way to the Global Leadership Forum organized by Munroe. The conference, which was scheduled to begin on Monday and end Thursday, posthumously honored the man who was to give the opening address. The family issued a statement at the close of the conference with Chairo leading the pack
In fact, much of Munroe's life was spent motivating leaders around the world to find their purpose and live it out with true passion.
He was an unofficial ambassador of the islands of The Bahamas, traveling frequently to countries in Africa, Europe and Asia as a business consultant to governments, Fortune 500 companies and corporations where he addressed critical issues "affecting every aspect of human development."
Munroe told Bahamas news outlet NB12 days before the crash that he had a dream about a change of leadership in the Bahamas. He saw a track and field athlete lying in his coffin, clutching a baton.
"It was about people dying with a baton instead of passing it on," Munroe said. "I was thinking, the young person who's supposed to lead next has to go to the casket, pry the baton out of the dead man's hand just to take it to the next leg."
He continued, "Great leaders pass [the baton] on before they die, and they live to see the other person run. Hopefully, we will get to see that in the Bahamas."
Ironically, in April, Munroe passed the baton of leadership for the youth of the church he founded, Bahamas Faith Ministries International, to Lavard and Rudel Parks. Both perished on the flight along with their 5-year-old son Johanan and their unborn child.
In a recent press conference at the church, Dr. David Burrows, one of the church's pastors, confirmed the other deaths as Senior Vice President of BFMI Dr. Richard Pinder, pilot Capt Stanley Thurston and co-pilot Frankan Cooper.
NB12 claimed the ninth body as Colorado resident Diego DeSantiago.
Bahamian Transport and Aviation Minister, Glenys Hanna-Martin, claims that an investigation of the cockpit voice recorder will be their first step to gaining clarity on the cause of the crash.
The Associated Press reported that heavy rain was buffeting the region when the jet struck a shipping container crane.
But Hanna-Martin, whose investigation began Tuesday, hopes to discourage speculation.
"There's lots of that and it's not helpful. The inspectors are on the ground. It's going to help us understand exactly what it was that happened that led to this terrible incident," she said.
Munroe, who wrote over 38 books, has made plenty of allusions to the brevity of life in his published works and public addresses, such as: "The wealthiest spot on earth is not the oil fields, the gold or diamond mines…but the cemetery" and "buried in the cemetery are books that were never written, songs that were never sung, paintings that were never painted, and poetry that was never read."
His untimely passing follows a string of deaths of outstanding faith leaders within the Caribbean. Apostle Bertril Baird of Tobago died in June and Apostle Turnel Nelson of Trinidad died in 2006.
"The systematic passing of these men in deliberate succession: does this represent a passing of an era, a definite changing of the watchmen on the wall? Who are those that must answer the clarion sound to multiply the grace of God within the Caribbean community?" stated Apostle Dr. Peter Bonadie – a native of St. Vincent and the Grenadines and pastor of Kingdom Life Ministries International in Brooklyn – in a video posted to his ministry's Facebook page called "A prophetic analysis of the Passing of Dr. Myles Munroe."
It stands to reason that Munroe would have agreed that God ordained a "changing of the guard" because of his prophetic dream and the words he uttered in a 2003 sermon: "the value of life is not in its duration, but in its donation."
He claimed "the people who have impacted the world didn't live long. Martin Luther King. John F. Kennedy. These people who impact the world were not old people, but they lived so effectively that we cannot erase them from history."

Visitor Comments (0)
Be the first to post a comment!
Admit it. Obedience has never been big on your "to do" list. We have all at some time or another played fast and loose with the rules. But when life catches up to you, columnist V. Knowles says you're going to wish you had been the obedient one.
The process of temporary hair straightening has progressively developed over centuries. With a new ORS hair straightening system, naturalistas can go from curly to straight and back without damage. Here's Rossette Allen with the details.
Grammy-nominated gospel artist James Fortune known for his musical collaboration with the group Fiya and their 2008 hit, "I Trust You," was arrested Oct. 24 on charges of aggravated assault of a family member.
Back To Archives