Did Actor Leave HBO's True Blood Due to Gay Plot and Religious Family?
August 6, 2014 • By Tiffani Knowles
Actor Luke Grimes, popular for his male heartthrob role on HBO's popular vampire drama True Blood, allegedly left the series in
December when he found out his character James Kent would be bisexual in this - the final season. His departure has earned him some professional criticism.
In 2013, when Grimes first appeared in a recurring role as James in the sixth season of True Blood, James was a smart, artistic vampire wooing Jessica Hamby, a female vampire.
The series, known for its outlandish, freaky plots, was created by the openly gay Alan Ball and produced by his company in conjunction with HBO – known for adult programs like Big Love, The Sopranos, The Wire, and Entourage.
This season, James turns his affections to gay character Lafayette Reynolds, played by Nelsan Ellis.
L.A-based entertainment lawyer Julian Chan told FOX411 that typically production companies have the freedom to tailor television scripts in whatever direction they desire, and it is only when nudity is involved that it must be written into a performer's contract.
Hollywood agent Alec Shankman told the network affiliate that "the creative direction is typically left to the directors, producers and distributors" and the "work-for-hire talent" is not usually involved in the creative consultation unless it's built into their contract ahead of time.
Over the years, many actors have quit TV shows because of creative differences, namely Angus T. Jones who played Jake for 10 years, leftTwo and a Half Men, because it did not complement his Christian faith.
Critics of Grimes' decision range from Stacy Lambe, Associate Editor for the gay-centered publication OUT Magazine, claiming "it's unfortunate that an actor today would feel uncomfortable playing gay, especially on a program that has always put LGBT characters front and center" to Grimes' love interest on the show Ellis.
Ellis spoke out in a Vulture interview saying he couldn't understand Grimes' reservations about portraying a same-sex romance, especially since the True Bloods is famous for its risque sex scenes.
Grimes' character had already portrayed a sex scene on a conference table with fellow vampire Jessica.
Interestingly, Grimes was raised in a devout Christian home but is currently "undecided on aspects of the modern Christian religion," he told Filler Magazine this summer.
His father is Rev. Randy Grimes and is the lead pastor at Open Bible Christian Church in Dayton, Ohio. Open Bible Christian Church is an affiliate of the Pentecostal-derived Open Bible Standard Churches – an organization that mailed the Same-Sex Marriage: Responding to the Challenge to every one of its ministers last fall. The booklet, co-written by OBSC President Randall Bach and Secretary/Treasurer Teresa Beyer, stated that Open Bible Churches is not confused about its stance regarding marriage:
God clearly states that marriage is a holy institution, created by Him and exclusively designed for and reserved to sexual unions between one man and one woman. Any

sexual unions apart from this God-ordained, marital bond are sinful because they are outside of and in violation of God's Word.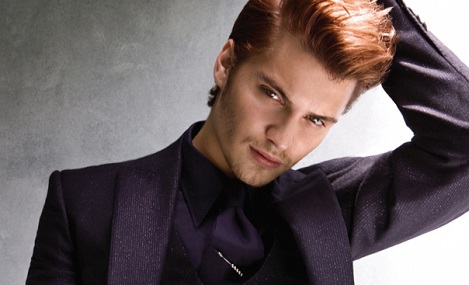 One cannot assume Grimes' decision to leave the show had anything to do with his family or faith because he told Filler that although he "still values the teachings he learned as a child" he wouldn't know what church to go to because he doesn't just want to be a part of a club that "becomes more powerful than the teachings [where] everybody thinks they have it the right way, and then it becomes really political."
According to Grimes's representative, his departure was due to a scheduling conflict with the filming of forthcoming movies American Sniper and 50 Shades of Grey and had nothing to do with storylines. His role was ultimately recast with Nathan Parsons.
Ironically, Grimes plays Christian Grey's adopted brother Elliot in the movie also known for controversial sexual content based on the erotic book series Fifty Shades of Grey written by E.L. James. The movie arrives in theaters in February 2015.

Visitor Comments (0)
Be the first to post a comment!
What do Zoe Saldana, Beyonce and Meagan Good-Franklin all have in common? All three famous entertainers are descendants of a region of the world that, regardless of its poverty, boasts big business to be highlighted at the Go Caribbean! Int'l Business & Investment Expo.
One of the biggest sources of confusion faced by naturals is product selection. What do I need? How do I know what to buy? What works best for my hair care routine? Let hair columnist Rossette Allen give you her 7-step product recipe.
For the past 5 years, America has wrestled with legislation surrounding same-sex marriage. Most people in the gay community regard people in opposing Christian circles as homophobic, prejudiced, bigoted misanthropes. But has a sincere Christian ever tried to tell GLAAD how he feels being lumped into that group?
Back To Archives