NY Prison Debate Team Wins over Harvard
October 8, 2015 • By Tiffani Knowles
Only months after winning a national title, the Harvard College Debate Union suffered a loss at the hands of an unlikely team: inmates from the Eastern New York Correctional Facility.
After an hour of fast-moving debate held at a maximum-security prison on Sept. 18, inmates who have limited access to internet and are all incarcerated for manslaughter, defeated the prestigious Harvard debate team as part of the Bard Prison Initiative -- a program run by Bard College to provide college education to qualifying prisoners, according to the Wall Street Journal.
This was not the first win for the prison team. They defeated a nationally ranked team from the University of Vermont and the U.S. Military Academy in West Point, New York. The prison club had invited the Harvard team to participate.
The debate topic was: "Resolved: Public schools in the United States should have the ability to deny enrollment to undocumented students." The prison team argued the affirmative.
Judge Mary Nugent, leading a veteran panel, said the Bard team made a strong case that the schools attended by many undocumented children were failing so badly that students were simply being warehoused. The team proposed that if "dropout factories" with overcrowded classrooms and insufficient funding could deny these children admission, then nonprofits and wealthier schools would step in and teach them better.
Nugent said the Harvard College Debating Union didn't respond to parts of that argument, though both sides did an excellent job.
The Harvard team members said they were impressed by the prisoners' preparation and unexpected line of argument. "They caught us off guard," said Anais Carell, a 20-year-old junior from Chicago.
Inmate Carlos Polanco told the Wall Street Journal that the team didn't agree with their position in real life because they would never want to keep a child from attending school and he was grateful for his chance to attend Bard College in prison.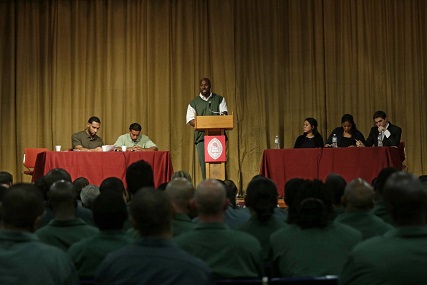 Because Polanco and his teammates don't have the convenience of internet browsing for research materials, the must make requests with the prison administration for books and articles, which can take weeks.
Nugent said that many would argue that it would be tempting to favor the underdogs in their judging of the competition, but the three judges have to justify their votes to each other based on specific rules and standards.
"I don't think we can ever judge devoid of context or where we are, but the idea they would win out of sympathy is playing into pretty misguided ideas about inmates. Their academic ability is impressive," said Nugent.
The Harvard club seemed to take the loss gracefully.
"Three members of the HCDU had the privilege of competing against members of the Bard Prison Initiative's debate program," the group posted on its Facebook page. "There are few teams we are prouder of having lost a debate to than the phenomenally intelligent and articulate team we faced this weekend, and we are incredibly thankful to Bard and the Eastern New York Correctional Facility for the work they do and for organizing this event."
The Bard program's officials say that of more than 300 alumni who earned degrees while in custody, less than 2 percent returned to prison within three years.
In New York state, recidivism rates are at 40 percent, mostly because of parole violations, according to the New York Department of Corrections and Community Supervision.

Visitor Comments (0)
Be the first to post a comment!
While many are unsure of how the United States and Cuba will work toward new market expansion in the next year, there are ample opportunities for business in the communist country, especially in art and culture.
Leave us alone! You stay where you are and we stay where we are—we've got this! We do not need you or your kind. However, any examination of world history shows that mindset is unsustainable, unreasonable, impractical and economically suicidal.
Pope Francis will touch down in New York City tomorrow at 5 p.m. on his first papal visit to the United States.
Back To Archives