Is it in Pot We Trust?
October 16, 2009 • By Tiffani Knowles
Homepage Thumbnail Design By Alex Vernaza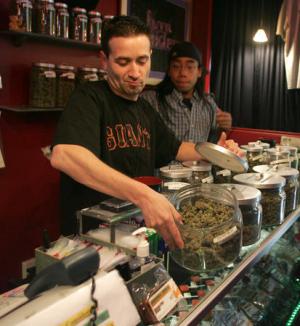 Scruffy teenagers use it for a quick high. Rastafarians use it for enlightenment. And, MS patients use it to ease pain.
Mary Jane. The Green Goddess. Weed.
Botanically dubbed Cannabis, the bud of this simple green plant is the most widely known and multi-purpose drug in the world and has been the center of international debates for decades.
Much to the chagrin of anti-drug activists, as of this May, over 30,000 identification cards have been issued in 48 of 58 counties, legally authorizing citizens to possess specific amounts of legal marijuana.
In the U.S., residents in states like California use their ID cards to purchase legal amounts of medical marijuana at shops like
The Green Easy
and
Love and Spirit Collective
.
California was the first state to legalize the substance for medical use under Proposition 215 in 1996. And, in 2004, the state passed a law granting implied legal protection to California's 1000 medicinal marijuana dispensaries.
Many believe it is only a matter of time until the rest of the country converts.
The King of Pot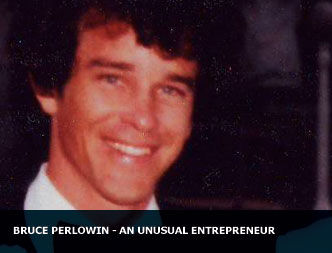 Bruce Perlowin, widely known as the "King of Pot" and one of the country's leading activists for medical marijuana, is chief among them.
This March, Perlowin founded the company Medical Marijuana, Inc., for the purpose of providing advanced business solutions to the rapidly expanding medical marijuana industry. But, he wasn't always so legit.
About 25 years ago, Perlowin was busted as the kingpin during a federal government investigation into one of the biggest and most sophisticated marijuana smuggling organizations in the country. He ran a 200-man international organization and smuggled 500,000 pounds of marijuana into California right under the Golden Gate Bridge.
"My training ground was actually in North Miami where in the late '60s and '70s, I smuggled in about a half a million pounds there. That early stuff never made the media," said Perlowin, who grew up in North Miami and was the captain of the gymnastics team at Norland Senior High School during the 1960s.
The mild-mannered, self-assured 34-year-old took a 15-year prison term rather than snitch on his former employees who helped him import $150 million worth of marijuana, mostly high-grade "Punta Roja" (red bud) product from central Colombia and Thailand.
To traffic that much marijuana into the country, Perlowin had a fool-proof operation.
He contracted over 90 marine vessels, a human resource base comprising fishermen, boat stagers, radio men, computer technologists, professional salesmen and even included his own "counter-intelligence" unit, which monitored the movements of Coast Guard craft and kept track of DEA and FBI agents.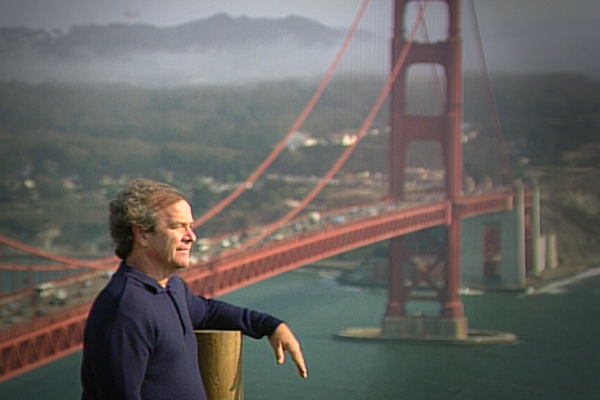 In prison, he read 100 books per year, garnered 5 college degrees and was released nine years into his sentence.
"When I got out, I became somewhat of a media sensation because on my resume it said ex-marijuana kingpin needs job," said Perlowin. "I was all over the media and one day a high school teacher called me up and said would you do a drug talk to my Current Affairs class… I said yes, but I'm gonna tell the truth."
Perlowin later teamed up with the FBI agent who arrested him and they did drug talks all over California.
Championing the fight against crack cocaine - which was the drug of choice during the early '90s - and educating teens on the effects of various illegal substances, together they became the most sought after drug speaking team in America for the next 18 years.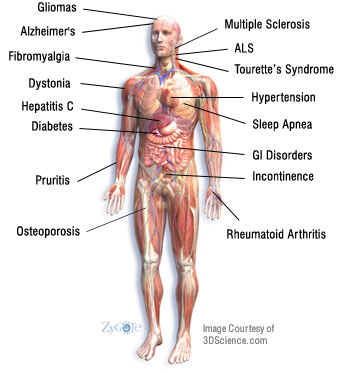 Today, Perlowin does not use marijuana, but he claims that the substance has countless health benefits - so much so that he began the first organization to ensure that growers and dispensaries of medical marijuana are complying with all government regulations.
"I watched a woman double over in pain from Hepatitis C. She was about to go on Interferon. And, they gave her some marijuana tea. I watched her unbend, straighten up and say, 'Oh, wow, the pain's gone,' without taking OxyCoton. This is in front of me so it's hard to watch that happening and say there's no medicinal effects. There really is," said Perlowin.
In the case of marijuana tea, the water - however - dilutes Tetrahydrocannabinol or (THC), the main psychoactive substance found in the Cannabis plant.
"Drinking the tea won't produce mind-altering effects, but smoking definitely will," said Dyrie Francis, a former Nurse Educator/Organizational Development Specialist at one of Miami's largest city hospitals and former adjunct faculty member at the University of Miami's School of Nursing.
The way it works is this: the THC acts primarily upon the central nervous system where it alters brain function, resulting in changes in perception, mood, and behavior; this is why a user has those feelings of euphoria ("a high") or increased alertness. Studies show all you need is 10micrograms of THC per kilogram of body weight to feel the high.
*

*Conditions being treated by medical ma

r
ijuana
The widely known short-term physical effects include bloodshot eyes, a dry mouth, an increase in heart rate, lowered blood pressure, appetite stimulation and fatigue.
While the long term physical effects are not as conclusive, the smoking of cannabis is believed to be the most harmful method of consumption.
The Rastaman's Sacrament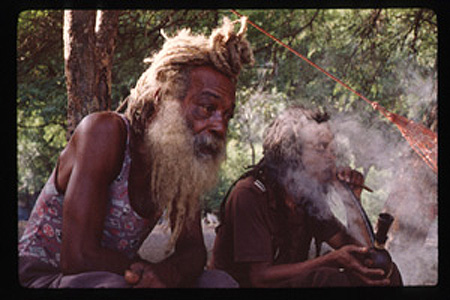 This is something Francis knows all too well as her younger brother developed marijuana psychosis due to habitual smoking.
"He was in his early 20s and a fireman in Jamaica when he developed serious paranoia, hallucinations and attacked his neighbor while under the influence," said Francis. "He was confined to a mental institution and never recovered. Now, he's over 50 and has never held a job since."
About 30 years ago, her brother told their family that he had converted to Rastafarianism, a religious movement in Jamaica which adopted marijuana as a sacred herb. Smoking marijuana was part of his religious practice.
Rastafarians use marijuana communally during "reasoning" sessions where they pass around a chillum pipe. Each member imbibes the drug and, they believe, it brings them closer to God and spiritual truths.
Francis, who is also an ordained Christian minister with Open Bible Churches USA, takes issue with the Rastafarian's choice to use a drug for increased spiritual enlightenment.
"If my body is a gift, a temple, what right do I have to willfully take something that alters mind?" said Francis, referencing Ephesians 2:10 from the Bible that both Christians and most Rastafarians study. "For we are God's workmanship, created in Christ Jesus to do good works, which God prepared in advance for us to do."
In short, Francis argues that with an altered mental state and physical limitations courtesy of marijuana, users cannot fully make a positive difference in their community and world.
Still, Francis claims she has great compassion for those suffering and believes that if it can be used as a healing agent, then marijuana should be prescribed medicinally. But, it should not be used as a recreational drug or to alter one's consciousness.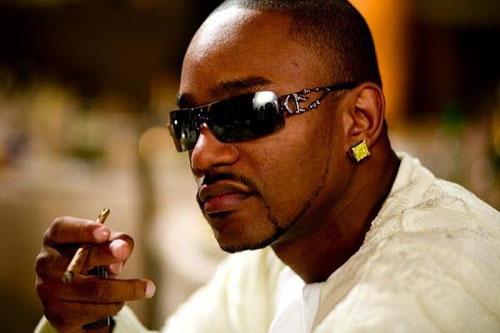 But, with California at the forefront of legalization, a bill introduced in February by Assemblyman Tom Ammiano of San Francisco has Francis and others opposed to recreational drug use up in arms.
The bill proposes to regulate marijuana just like alcohol, with people over 21 years old allowed to grow, buy, sell and possess cannabis - all of which is barred by federal law.
Ammiano claims that at a ti
me of decreasing revenues, taxes and other fees associated with marijuana regulation could up the state treasury by a billion dollars.
"If you ask any kid in any neighborhood around the country, how quickly it would take them to get their hands on marijuana, they're gonna tell you 5-15 minutes," said Perlowin. "They already have access to it, so we have to find a way to regulate it."
Francis, however, maintains that increased accessibility facilitates usage.
"It's common knowledge that prohibition reinforces inhibitions," said Francis. "In the old days, it wasn't that we didn't want to have sex, it was because we were afraid of getting pregnant. There weren't contraceptives around. Now, there are condoms in the school and kids are getting pregnant. It's a common fact."
Damion Stewart, 26, has been using marijuana habitually for recreational purposes since he was 18-years-old. He claims he reads more books and is far more creative than he is normally while on the drug.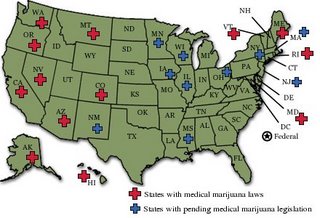 "I am a loner person," said Stewart. "It allows me to think more and want to know more about the world and life's problems."
While he notices that his physical stamina and memory have declined in the past few years due to his drug use, he claims it is a fair trade-off just to be cognizant of certain hidden truths.
Perlowin does not chastise young people like Stewart for using the drug, but claims he doesn't use anymore because he's "too naturally high, too creative and is a visionary."
But, what of the work performed by activist groups like TRUTH and MADD currently rallying against the physical, emotional and societal detriments of controlled legal substances?
The TRUTH campaign attempts to combat tobacco,
responsible for over 400,000 deaths in America every year.
Groups like Mothers Against Drunk Driving attempt to prevent homicides brought on by a substance that attributes to one in 25 deaths worldwide and the most disabling disease categories within the global burden of disease, especially for men.
Can we as a society afford for another vice to be legally introduced?

Visitor Comments (0)
Be the first to post a comment!
Next week is the projected date for Donald Trump's return to power. Columnist V. Knowles wonders what will happen with the pro-Trump community.
Power facilitates access to money which maintains said power and influence over a society. This is the reason systemic racism exists in America. Can a believer understand this?
New York native Jose Figueroa Jr. has made it to the May live shows on NBC's "The Voice" Season 20 with a dominant Christian song selection and a gratefulness to the God.
Back To Archives