Grand Opening of The Luxe Lounge
November 28, 2012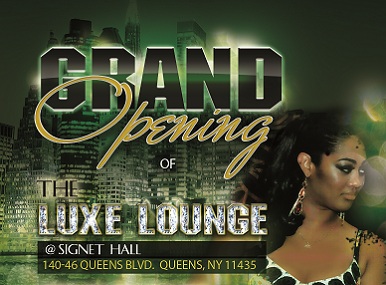 What are you up to New Year's Eve?
I bet after you've rung in the New Year with family and friends at church you'll have a lot of time and energy to kill before daylight.
So...meet old and new friends at the newest Christian lounge to make it to the New York scene - The Luxe Lounge.
A fully collaborative effort of GCEN - the company that brought you Night of Gospel Laughs - and media/entertainment powerhouses NEWD and TNI Radio, The Luxe Lounge will open its doors at Signet Hall, 140-46 Queens Blvd. after the clock strikes midnight on New Year's.
Audiences can expect mingling, live comedy and dancing to the best in Christian salsa, reggae, hip hop, soca and Afro-beat music.
Tickets are only $20 person and $35 per couple. Your entry guarantees you a complimentary food and beverage item.
Plus, if you're the kind of person who's the natural "life of the party," apply to be an official party filler or greeter at the event, you can receive a complimentary pass to the event and your OWN guest list for you to invite up to 10 friends to tag along. To apply, visit our Luxe Lounge Facebook page and post why you're "the life of the party" of any party you go to-- essentially what makes you the kind of person people want to hang out with for a night out. If you're eligible, we'll contact you via your Facebook page.

To purchase tickets, log onto theluxe.eventbrite.com

Visitor Comments (0)
Be the first to post a comment!
Is good now just passe? Have we replaced it with words like malice, anger, hatred and murder -- phrases that serve to angry up the blood and debilitate the spirit? Columnist V. Knowles
After the reveal of many Christian conservatives who housed profiles on the "affair-seeking" site Ashley Madison, one has to wonder if religion and its strictures on sexual behaviors force men behind a veil of dishonest sexual indiscretions?
When you put yourself out there as a Black man in the United States, anything can and will happen. Certain segments of this society are not allocated a lot of room for error or misunderstanding. Columnist V. Knowles shares a bit of insight as to why Black men get killed at a faster rate by the cops.
Back To Archives