Grand Opening of The Luxe Lounge
November 28, 2012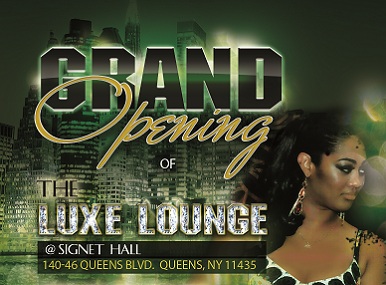 What are you up to New Year's Eve?
I bet after you've rung in the New Year with family and friends at church you'll have a lot of time and energy to kill before daylight.
So...meet old and new friends at the newest Christian lounge to make it to the New York scene - The Luxe Lounge.
A fully collaborative effort of GCEN - the company that brought you Night of Gospel Laughs - and media/entertainment powerhouses NEWD and TNI Radio, The Luxe Lounge will open its doors at Signet Hall, 140-46 Queens Blvd. after the clock strikes midnight on New Year's.
Audiences can expect mingling, live comedy and dancing to the best in Christian salsa, reggae, hip hop, soca and Afro-beat music.
Tickets are only $20 person and $35 per couple. Your entry guarantees you a complimentary food and beverage item.
Plus, if you're the kind of person who's the natural "life of the party," apply to be an official party filler or greeter at the event, you can receive a complimentary pass to the event and your OWN guest list for you to invite up to 10 friends to tag along. To apply, visit our Luxe Lounge Facebook page and post why you're "the life of the party" of any party you go to-- essentially what makes you the kind of person people want to hang out with for a night out. If you're eligible, we'll contact you via your Facebook page.

To purchase tickets, log onto theluxe.eventbrite.com

Visitor Comments (0)
Be the first to post a comment!
He is, at his core, a black beast, whose sole aim in life is to rape white women or shame them. Ask any southern gentleman in the Jim Crow South. Americans still have a problem with Black skin. Look no further than Louisiana and Minnesota.
To the delight of 25 states, the Supreme Court has ruled that President Obama's executive action relative to undocumented aliens is illegal. We highlight the hole in the wall, so to speak, in the book HOLA AMERICA.
There is something reprehensible about using the death of a human being to endorse a philosophical point of view or score brownie points on a particular political platform. A last name or a country of origin does not make Omar Mateen a killer.
Back To Archives