Grand Opening of The Luxe Lounge
November 28, 2012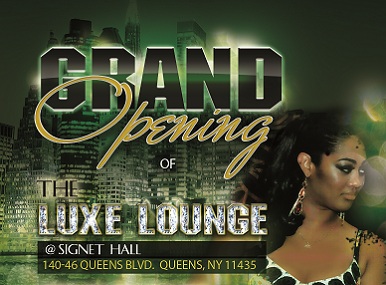 What are you up to New Year's Eve?
I bet after you've rung in the New Year with family and friends at church you'll have a lot of time and energy to kill before daylight.
So...meet old and new friends at the newest Christian lounge to make it to the New York scene - The Luxe Lounge.
A fully collaborative effort of GCEN - the company that brought you Night of Gospel Laughs - and media/entertainment powerhouses NEWD and TNI Radio, The Luxe Lounge will open its doors at Signet Hall, 140-46 Queens Blvd. after the clock strikes midnight on New Year's.
Audiences can expect mingling, live comedy and dancing to the best in Christian salsa, reggae, hip hop, soca and Afro-beat music.
Tickets are only $20 person and $35 per couple. Your entry guarantees you a complimentary food and beverage item.
Plus, if you're the kind of person who's the natural "life of the party," apply to be an official party filler or greeter at the event, you can receive a complimentary pass to the event and your OWN guest list for you to invite up to 10 friends to tag along. To apply, visit our Luxe Lounge Facebook page and post why you're "the life of the party" of any party you go to-- essentially what makes you the kind of person people want to hang out with for a night out. If you're eligible, we'll contact you via your Facebook page.

To purchase tickets, log onto theluxe.eventbrite.com

Visitor Comments (0)
Be the first to post a comment!
Celebrating 16 years of service and 7 years of hosting Flavor Nights, South Florida-based entertainment services group Soul Movement Crew is hosting the biggest party in the company's history on Friday, September 4 at The Venue Ft. Lauderdale, 2345 Wilton Drive in Fort Lauderdale, FL. From 7:30 to 11:30 p.m.
Many would argue that detoxes, like diets, are merely fads and aren't truly beneficial to one's health, as they are – at times – really about deprivation vs detoxification. Health Columnist Shari Grant will tell you if detoxes are actually okay for the body.
Ten-year-old track star Arkansas resident Coulaj Eans will compete along with his two younger siblings for a three-sibling sweep of the 2015 USATF National Jr. Olympics in Jacksonville, FL on July 27.
Back To Archives