Natural Hairnamix: Let Me Clarify
March 19, 2014 • By Rossette Allen
The word "clarify" means to clear something up and remove any uncertainty related to the topic. In a somewhat weird way, so is it with clarifying your hair because it involves the removal and clearing up of something unwanted.
Natural hair often requires lots and lots of products to keep it moisturized and to prevent it from getting dried out. Unfortunately, in the quest to combat one issue, we become inevitably faced with another, a side effect, if you will.
This scenario certainly reminds me of the popular idiom that speaks of one being stuck between a rock and a hard place. Thick residue begins to build up in your hair due to the products you use. Additionally, the external factors of smoke, dirt particles carried by the wind and hard water also create buildup. If your hair falls victim to any of these factors it will more or less begin to look weighed down and dull. And, it will certainly not act right.
What does it mean to clarify hair?
The term clarify, as it relates to hair, refers to the process of removing build up with the use of a clarifying shampoo or other natural, homemade concoctions whipped up for the purpose.
How is hair clarified?
The simplest way to clarify natural hair is with the use of an over the counter clarifying shampoo but there is also the option to apply a home remedy. The method used will seek to break down the buildup and removing the unwanted grease, dirt and residue.
What are the signs that hair needs to be clarified?
1. Excessively Greasy Hair
Natural hair, as mentioned before, usually requires daily moisture. Since oil is most commonly used to seal in the moisture, repeated application can cause your hair to be overly oily. This can occur not only on the strands but also on the scalp. Natural hair products also usually include some type of oil listed in the ingredients. Using these products daily will surely contribute to your hair becoming greasy. Regular sulfate-free shampoos that most naturals use usually don't effectively rid hair of the oil buildup and may therefore require the use of a clarifying shampoo or alternate homemade clarifier.
2. You went Swimming
Summer is around the corner and a popular summertime activity is swimming. Swimming, while very refreshing to the body, and an excellent form of exercise, can wreak havoc on your hair. Residue of chlorine from the pool and salt from the beach will damage your hair if not removed in a timely manner. The practice of just standing under a poolside or beachside shower and rinsing with only plain water won't always do the trick. If you are a frequent swimmer and your hair is exposed to these elements on a daily basis, it may suit you well to do periodic clarifying to ensure that all the buildup is effectively removed.
3. Product Buildup
As mentioned earlier, piling on product after product in a quest to achieve moisturized hair will result in product buildup. When I set my hair in twists at night, I add product afresh each time. My hair loves very heavy, thick products, so
just imagine the layers of buildup that accrue throughout a typical week. Although I don't wish to clarify my hair every week, I try to get one in at least once per month. I have attempted to use lighter products for nightly resetting in order to alleviate the excessive buildup syndrome.
What can I use to clarify my hair?
As mentioned above, hair can be clarified with either an over the counter clarifying shampoo or some type of DIY concoction that is effective at removing buildup.
Over the Counter Clarifier
Kinky Curly Come Clean is one of the over the counter clarifying shampoos that naturals opt to use. This shampoo, although sulfate free, is enriched with a natural chelating agent that removes hard water minerals such as calcium and magnesium. Because it is sulfate-free it is perfect for dry, damaged hair and is gentle enough to not cause stripping. Since many of us dread using shampoo because it has the tendency to strip the hair of its natural oils, this clarifying shampoo is a welcomed invitee to any natural's Product Party. The product is available at Target or Whole Foods or online at www.kinky-curly.com.
Homemade Clarifying Rinse
Another way of clarifying is with the use of Baking Soda and Apple Cider Vinegar. Baking soda as we all know is an excellent cleaning agent for the entire home and it certainly doesn't disappoint where hair is concerned. It has a pH balance of about 8.5, so it is best used in conjunction with the Apple Cider Vinegar which has a pH balance of about 2.2. This helps to return your hair to its natural pH balance of approximately 5.5.
Baking Soda Rinse Recipe
1 Tbsp. Baking Soda
1 Cup warm water
Method
Mix together until fully diluted and pour into an applicator bottle. Squeeze the mixture unto the hair and allow to sit for 5 minutes then rinse. Follow with the Apple Cider Vinegar Rinse.
Apple Cider Vinegar Rinse
1 Tbsp. Apple Cider Vinegar
1 Cup warm water
Method
Mix together and apply to hair, allowing it to sit for 5 minutes. Rinse with cool water to close back the cuticles.
Proceed with your usual conditioning routine.
Clarifying should not be practiced too often as it may leave your hair feeling very dry and stripped. Although the frequency with which hair is clarified will vary from person to person, depending on the condition of your hair, on average it should be safe to do so once per month.
A word of caution, if you have color treated hair, bear in mind that the use of a clarifying shampoo will cause the color to fade at a faster rate than normal.
Just remember, natural hair thrives and grows more successfully in a clean environment. Whenever you start to get confused as to why your hair is not performing at its best, maybe you should "clarify" and it will clear up the issues.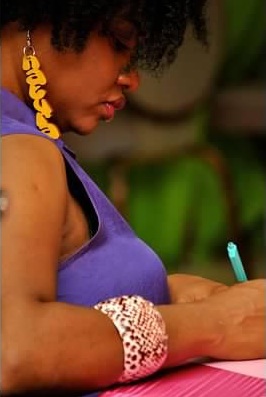 Candie's Natural Hairnamix was birthed a few months after Jamaican native Rossette "Candie" Allen began her natural hair journey in May 2010. She gears this column toward naturals, transitioning naturals, aspiring naturals and the naturally curious, sharing experiences, expertise and experiments while celebrating emancipation from chemical slavery.

Visitor Comments (0)
Be the first to post a comment!
There are some people who will never reach the level that you set for or expected from them. You need to understand that and be merciful, since the same thing can apply to you.
Who knew becoming a citizen has such spiritual, legal, mental and cultural implications? V. Knowles shares how years of double consciousness of being from somewhere and living somewhere else drove him to make an ultimate decision.
Launched in April as a web broadcast due to social distancing rules during the COVID-19 pandemic, The Situation Lounge is a program made possible by Training for Greatness, a Miami-based company that centers on training and holistic development for entrepreneurs.
Back To Archives