Celebrities Leverage Influence for Christ at Bridge Church Event
March 19, 2014 • By Tiffani Knowles
In a very poignant but intimate discussion with celebrities in the media and entertainment industries who profess a strong faith in Christ, Pastor James Roberson III breaks onto the New York scene with a relevant and a no-holds-barred approach to ministry through Bridge Church NYC.
As an outreach for his few-month old church plant in Brooklyn, NY, Roberson is hosting periodic events called Leverage, a part-worship, part-intimate Q&A format featuring industry professionals who are leveraging their influence for Christ.
Last Thursday, ESPN analyst Chris Broussard and NYC-based actor Mark Tallman were on the hot seat before 150 young adults as Roberson questioned them about living out their faith.
Tallman, famous for playing Reggie Westfield on VH1's Single Ladies, told audiences that if it weren't for Christ he couldn't survive in the acting profession.
"Actors need [Christ] more than anything because you get beat up so much in this industry and there is so much sin like kissing on camera with someone not named Jessica Tallman," he said. "One of the most powerful moments in my life was affecting a non-believer right before going into an intimate scene…I asked her if I could say the prayer of Jabez with her…and she just started weeping."
Both he and Broussard shared a very similar testimony of how God handpicked them for these professions, deflating the idea that Christians should shy away from the secularism of the entertainment industry.
"I was on my way to seminary when God caused me to move from my Ohio paper to The New York Times," said Broussard.
And after six years of covering the Nets and the Knicks for The New York Times, Broussard received an offer to work for ESPN – he never went to seminary. His work ethic proved to be so outstanding that some of the NBA's hottest players like Lebron James would talk only to him when doing news features with ESPN The Magazine.
While much of the evening highlighted Tallman and Broussard's unique journey to fame, Roberson turned the discussion toward very sensitive issues like homosexuality.
Broussard was the analyst who only last year stated very candid remarks on ESPN's "Outside The Lines" about NBA player Jason Collin's choice to come out as a gay but maintain his stance as a devout Christian.
He recounted for the audience what he said to fellow ESPN analyst LZ Granderson on the show: "Unrepentant sin, whatever it is, homosexuality, premarital sex, adultery, if that's just your lifestyle…you can't live in unrepentant sin and be a real Christian…according to the Bible."
Tallman, who works with many gay actors, claimed to still struggle with labeling homosexuality as a sin that excludes you from the faith.
"I think you can be gay and be a Christian," he said. "I think it's important to judge the intention of one's sin."
After the event, both gentlemen told NEWD their own definition and context for when they feel their most NEWD or truthful and transparent.
Mark Tallman states: "Because of the vulnerability involved in acting, you have to totally take your guard down. I keep Christ in my approach. With my work, I am my most NEWD, because it's important to strip yourself down and let them know you're a believer.
Chris Broussard states: "Prayer time because God knows everything. Even though I try to be transparent with people, none of us share everything with everybody. God knows it already. He knows your insecurities and your fears. I share everything with the Lord.
The next Leverage event happens Thursday, March 20 at The Bridge Church NYC at 98 5th Avenue, minutes from The Barclays Center home to the Brooklyn Nets. Guests are Freedom Writers actress April Hernandez and hip hop artists Andy Mineo and MC Jin.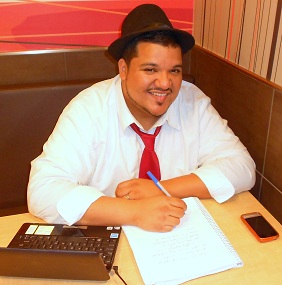 The self-proclaimed Zig Ziglar of rap, Billy Delgado, is a Music Producer/Artist and Writer by day and sleeping pillow-drooler by night. He is currently producing the debut album for his band The 288's, a God-inspired Hip Hop/R&B group that combines soul-baring lyricism with an electric innovative sound, breaking from the norm and reaching all cultures & ages (save senior citizens). He still can't believe he's a family man with a beautiful wife Mari & three boys Chris, Nelson and Joshua, so he continues to pinch himself silly to this day.
- See more at: http://www.newdmagazine.com/apps/articles/web/articleid/79282/columnid//default.asp#sthash.rR184hJD.dpuf

Visitor Comments (0)
Be the first to post a comment!
The 26 Annual Miss Jamaica Florida pageant, produced by charitable, non-profit organization Partners for Youth Foundation crowned winners within four pageant categories at the Coral Springs Arts Center on Sunday, June 30, 2015, including multi-talented artist Allison Johnson.
Last Friday, in a long-sought victory for the gay rights movement, the Supreme Court ruled by a 5-to-4 vote that the Constitution guarantees Americans the right to marry members of the same gender. Yet, why did four Supreme Court Justices disagree?
After the tragedy in Charleston, how will the victims' families live? Enduring such a bitter blow, will they find any reason to lead a productive existence? How do they turn it around to find the good in all of this? How does it get better? Will things ever be right again? Columnist V. Knowles tells us how.
Back To Archives