Theatre Review: Walter Mosley's Lift Pushes Clear Metaphor
April 16, 2014 • By Tiffani Knowles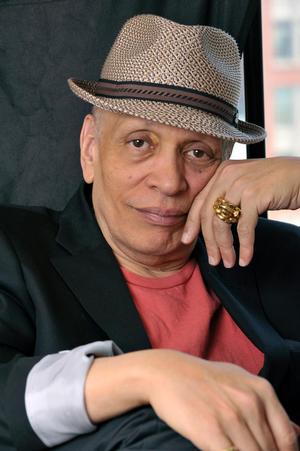 Audiences were roused by the serendipitous circumstance of two imperfectly, perfect strangers trapped in an elevator in the new drama by award-winning writer Walter Mosley, showing at Crossroads Theatre Company in New Brunswick, NJ April 10-25.
Lift features a barebones cast of four players, yet 95 percent of the actions centers on straight-talking Theodore "Big Time" Southmore (Biko Eisen-Martin) and prim and proper Tina Pardon (MaameYaa Boafo).
Reminiscent of a 9-11 terrorist attack, these two equally ambitious corporate cube-rats meet their impending doom when an explosion traps them in a skyscraper elevator. All they have now is each other.
After observing the pre-explosion interaction between Tina and her loud-mouthed co-worker Noni (Shavonna Banks), Southmore engages Tina in a conversation that at first causes Tina to defend herself but soon endears her toward him.
Mosley cleverly introduces a through line of racial, cultural and class consciousness as characters like John Thomas Resterly (Martin Kushner) make shock-and-awe remarks that incite heated discussion, pushing the action for the remainder of the play.
Among Resterly's slew of racial stereotypes, one stood out from the rest as the bedrock of the metaphor in the title Lift.
"Hispanics and Blacks are like Atlas. They hold the rest of the world on their shoulders so that others can climb on and succeed."
How can Tina and Southmore now make sense of such a brazen remark?
For the next 2 hours in their hot box of an abode, Tina and Southmore exchange dark secrets, attempt to comfort others trapped in neighboring elevators and realize that they are both more same than different.
Tina finds comfort in Southmore's uncanny psychic abilities and Southmore seeks to impress Tina by behaving stronger than he actually is.
While Southmore's character was full and rich, Mosley may have underserved Boafo by not developing Tina's back story until three-quarters of the way through the play.
Very quickly, audiences knew how Southmore ended up at the firm, they learned of his severe "medical condition," they know of his bed-ridden mother and his troubled upbringing.
Eisen-Martin portrayed Southmore's physical ailment and smart-alecky quips with truth and alacrity.
Tina, however, seemed to panic, bate and whine without audiences knowing much of where her angst originates, save her claim of not dating Black men because they may make her "piss in the corner like a dog."
Early on, she tells Southmore of her new beau and declares emphatically that "he's White." As an answer, a credit to Mosley's expert storytelling, Southmore compares her to his 4-year-old cousin Lily who loves her plush toy dinosaur only because "he's funny." The most important thing to Lily is that the toy makes her laugh and to Tina, it's her love interest's race and social status.
It was clear from the start that Mosley's work was a commentary on the Black man vs Black woman love relationship.
Boafo knew how to stir up the venom necessary for Tina to spit out words that would emasculate her lift-mate. Surprisingly, instead of these words making Southmore cower or fight back – as many Black men would – Southmore makes the uncommon choice to make even more concerted efforts to save them from death's door.
While the scene transitions were a wee bit murky at times and Tina's character deserved to be rounder, Mosley's injection of old-world mythological allusions like Sisyphus, unexpected plot twists and the overall metaphor of a man and woman lifting each other to higher heights make this an audience pleaser for the sophisticated theatergoer.
Lift is directed by Marshall Jones III, Crossroads' producing artistic director. Walter Mosley is the author of more than three dozen books but is perhaps best known for his best-selling crime fiction, including the popular Easy Rawlins series. Lift will mark his first full-length play to premiere on the East Coast.
Performances are at 8 p.m. April 17, 18, 19, 23, 24 and 25; 3 p.m. April 12, 13, 19 and 20; and 7 p.m. April 22. Ticket prices are $10 to $65.

Visitor Comments (1)
The public charge rule that rendered immigrants inadmissible or ineligible for green cards if they accept government assistance was overturned in September and new rule, allowing immigrants to receive food stamps, healthcare services and other government aid, took effect December 23, 2022.
This Christmas, R&B singer-writer-producer Ne-Yo, stars in the BET+ original holiday remake of "The Sound of Music" directed by Booker Mattison.
Trump is like an aging boxer well past his prime, who does not know when to quit. Yet, which political stands in the wings? I think we all know.
Back To Archives