Christian Actress Edwina Findley Stars in new Tyler Perry/OWN show
September 4, 2014 • By Tiffani Knowles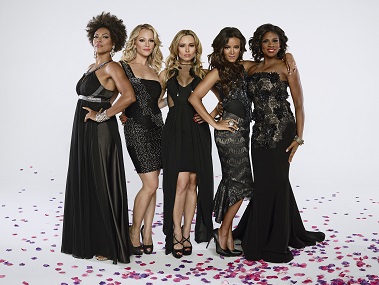 Christian actress Edwina Findley stars in the cast of Tyler Perry's new drama series If Loving You Is Wrong slated to premiere on OWN: Oprah Winfrey Network on September 9.
Edwina Findley, who is best known for her work on HBO's Treme and the motion picture Middle of Nowhere, plays Kelly, mother to a young son. Her boyfriend and son's father (Denzel Well) has been away on a relief mission in Haiti for a year.
Akin to Perry's The Haves and Have Nots, this show is once again created, written, directed and executive produced by Perry and was shot at the Tyler Perry Studios in Atlanta, Ga. It follows the relationships of a group of husbands and wives that live and love on the same street. The neighbors come from very different ethnicities and upbringings, yet their lives are painfully similar as they are all raising children, worrying about finances, keeping their exes at bay all while lighting new romantic flames.
Still, true to the primetime soap style of Perry's on The Haves, just below the surface —sandals, sex, and deceit run their course, threatening to destroy each family.
While Findley may play a baby momma on TV, she is a stranger to scandals, sex and deceit herself, claiming that her career in Hollywood is all a part of God's big plan for her life.
Findley married former advertising executive Kelvin Dickerson just two years ago in New York where the two met while attending the Christian Cultural Center in Brooklyn.
They both moved to Los Angeles as Findley's television and movie career began to explode. Now they attend One Church International in L.A. and have launched an organization called Abundant Life U that gives Christian artists and entertainers a platform to influence today's culture through speaking events and life and career coaching for budding artists.
To hear more about her work with Abundant Life U and her new show If Loving You is Wrong, tune in to her live radio interview on NEWDradio at 10 a.m. EST on Sept. 19. She will be taking questions about her career and how faith has led her all way the way to Hollywood.
Findley and the rest of the If Loving You is Wrong ensemble will grace our television sets on the evening of Sept. 9 at 9/8c.
She may have a permanent gig on OWN if The Haves And The Have Nots are any prediction. It returned to the network with new episodes May 27 to more than 3 million total viewers, becoming the network's highest season premiere in history.

Visitor Comments (0)
Be the first to post a comment!
Doors are at the same time the entrance to something amazing and the exit from something amazing or the entrance into something terrible yet the exit from something terrible. What does your relationship look like?
Sarah Sanders said recently on the CBN, God wanted Trump to be president. Once you say that, it has to be demonstrated to an unbelieving, cynical world that his election is a God-ordained act.
This shutdown is a tool to appease a narrow group of immigration hardliners who spit out unsupported facts about immigration to an ignorant audience with prejudiced itching ears but most illegals immigrate LEGALLY then overstay.
Back To Archives