Curly-Haired Girls Don't Think They're Beautiful, Study Shows
January 21, 2015 • By Tiffani Knowles
From every red carpet to every corporate boardroom, the straighter and sleeker a woman's hair is, the more physically-attractive she feels. So, it's no surprise that Dove released statistics yesterday from a global study conducted by Edelman Berland and H&E that state "only 10% of women feel proud of their curls and only 4 out of 10 curly-haired girls think their hair is beautiful."
When naturally curly-haired celebrities like Taylor Swift, Mariah Carey and Emma Stone choose to don straight locks for the camera, it's easy to see how the average woman would think straight hair is normal – even though one in four women have wavy-to-curly hair in the United States.
"This impacts the lives of millions of women with curly hair and can leave them feeling less confident at all stages of their lives, particularly as young girls," said Dove's press release on Jan.20.
As a result, Dove, a Unilever brand, launched a Dove Hair: Love Your Curls campaign and film. The film, which has gone viral on YouTube, features the stories of seven curly-haired girls who are honest about the beauty that they don't see when they look at their hair.
"I think about my hair…that I don't want it anymore," 6-year-old Carina said with child-like honesty.
Others admitted to wanting to rip out their hair and being very sad that they feel that way about their appearance.
Several of the girls in the movie - Camilla, Jewel and Angelyce - were obviously bi-racial. Their plight stems not only from being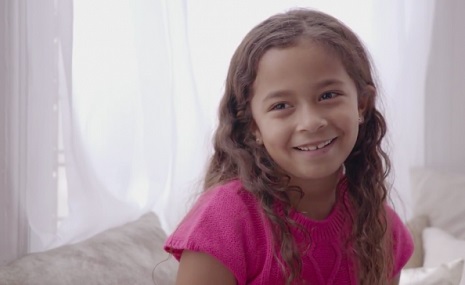 inundated with images of media icons with bone-straight hair that flows in the wind, but the keen observation that they don't look exactly like their mothers.
In fact, several haircare companies besides Dove have been catering to a multi-racial clientele for years. Take Mixed Chicks founded by Wendi Levy and Kim Etheredge in 2003 or Miss Jessie's founded by Black-Japanese sisters Titi and Miko Branch in 2004. Their haircare lines attempted to make natural curls softer, less unruly and more manageable for mixed women.
"My daughter is bi-racial, she has light skin like her father and a looser curl pattern than me," said Yannick Brackenridge-Jackson, co-founder of BlackNaturalHairstyles.org. "She commented to me the other day that my hair was so big and poofy."
Brackenridge-Jackson just recently committed to ditching both her chemical and heat straightening methods and embrace her own natural curls on a daily basis as a way to claim her own God-given beauty, inspiring her daughter to do the same.
"If I wore my hair straight, I know for a fact that my daughter would want her hair straight, too," said Brackenridge-Jackson. "She likes to pattern everything I do."
She claims that when her hair is worn loose her daughter receives compliments from her family members and so many others when they go out.
"The more compliments she gets, the better she feels as a curly girl," she said. "She loves her hair."
In fact, Dove Hair confirms in their study that little girls are seven times more likely to love their curls if people around them do.
"At Dove, we recognize that there is a very complex relationship between a woman and her hair," stated Rob Candelino, VP of Unilever Haircare. "Our Love Your Curls campaign is intended to inspire millions of women to feel confident about embracing their natural curls. If women show the world just how much they love their hair, they will positively impact the next generation to do the same."
Brackenridge-Jackson agrees with Dove; earlier this month, her website launched its own campaign to begin normalizing curly and kinky hair. In fact, they have established February 21 as International Keep it Kinky Day and are encouraging meet-ups in areas globally like New York, Florida, Georgia, the Virgin Islands and Scandinavia so women can celebrate their hair together.
"I would never have worn my hair like this to work before...never!" said Brackenridge-Jackson, who sports a textured afro. "But now people at my job are slowly coming around to accepting it as beautiful, too."
Watch the Love Your Curls film and be inspired to share your curl love story at Dove.com/loveyourcurls. Show the world how you #LoveYourCurls on Facebook, Twitter, and Instagram.
Then, visit Blacknaturalhairstyles.org to register for International Keep it Kinky Day. Show your support with #IKIKDay on Facebook, Twitter, and Instagram.

Visitor Comments (0)
Be the first to post a comment!
The public charge rule that rendered immigrants inadmissible or ineligible for green cards if they accept government assistance was overturned in September and new rule, allowing immigrants to receive food stamps, healthcare services and other government aid, took effect December 23, 2022.
This Christmas, R&B singer-writer-producer Ne-Yo, stars in the BET+ original holiday remake of "The Sound of Music" directed by Booker Mattison.
Trump is like an aging boxer well past his prime, who does not know when to quit. Yet, which political stands in the wings? I think we all know.
Back To Archives