Zimmerman Closes Auction on Gun
May 19, 2016 • By Tiffani Knowles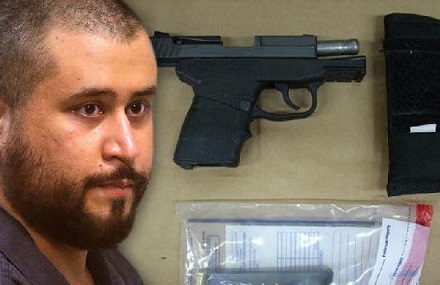 George Zimmerman, the man who fatally shot 17-year-old Trayvon Martin on Feb. 26, 2012, said Wednesday that the online auction has ended for the sale of the gun he used to kill Martin and he was immediately notifying the winner.
"First and foremost, I would like to thank and give the glory to God for a successful auction that has raised funds for several worthy causes," Zimmerman said in a blog message.
He said it would be up to the winning bidder to decide whether to remain anonymous.
This was the third attempt by Zimmerman to sell the Kel-Tec PF-9 handgun because many did not want anything to do with the weapon used to end the life of a "Black Lives Matter" movement icon.
Two auctioneers, Wes Cowan of Cowan's Auctions in Cincinnati and James Julia of James D. Julia Auctioneers in Fairfield, Maine, both refused to add Zimmerman's gun to their auction block.
Cowan said he never returned Zimmerman's call and Julia said he instructed his employees not to accept the gun.
"The man is despicable and I would have nothing to do with his gun," Julia said.
Cowan said: "Morally and ethically, no, I wouldn't do it."
Zimmerman told Orlando TV station WOFL that he would not be "cowed" by critics.
The first auction, hosted last week by GunBroker.com, never got off the ground because the company refused to sign off on it. Then, at a United Gun Group auction, anti-Zimmerman activists started making phony bids with monikers like "Racist McShootFace" and "Donald Trump," inflating the auction beyond $65 million on Friday, May 13. When the sale ended, no serious bidder had taken the weapon at any price. This final attempt went more smoothly because web traffic was closely monitored.
Famous collector and auctioneer Herman Darvick said there was no controversy when he helped sell the .38 Colt Cobra that killed Lee Harvey Oswald on Nov. 24, 1963, two days after the assassination of John F. Kennedy. The gun sold for $220,000 in 1991.
However, Darvick believes that selling the Zimmerman gun is outside the bounds of acceptable behavior.
"No, I wouldn't touch it," Darvick said. "If anything, it should go to a black history museum. He shouldn't get a penny for it."
On the United Gun Group auction site, Zimmerman wrote that "many have expressed interest in owning and displaying the firearm including the Smithsonian Museum in Washington, D.C. This is a piece of American history."
The Smithsonian responded with a tweet on Thursday, May 12: "We have never expressed interest in collecting George Zimmerman's firearm, and have no plans to ever collect or display it in any museums."
Zimmerman also expressed on the United Gun Group site that once he sells the gun, he plans on fighting the violent efforts made by the Black Lives Matter movement against law enforcement officers, destroying the career of federal prosecutor Angela Corey and railing against Hillary Clinton's anti-firearm rhetoric.
The firearm required a starting bid of at least $100,000, and a $500,000 buy-it-now pledge would seal the deal.
Sean Rich, owner of Tortuga Trading and well known as an antique firearms consultant on the History Channel TV show "Pawn Stars," said the negative publicity for an auctioneer would outweigh any profit.
He was not approached by Zimmerman and he said he would turn the item down if he were.
"That's one of the reasons I choose not to deal with Nazi material. You have to draw the line somewhere," Rich said.
Even though the dealers are known to sell the firearms of gangsters and gun-slingers such as Jesse James or Bonnie and Clyde, rarely do history's most infamous guns go on sale.
The Mannlicher-Carcano rifle from the Kennedy assassination is held at the National Archives. John Wilkes Booth's Deringer, used to kill President Abraham Lincoln, is on display at the Ford's Theater Museum.
"The firearm for sale is the firearm that was used to defend my life and end the brutal attack from Trayvon Martin on 2/26/2012," Zimmerman wrote.
Zimmerman, 32, noted the Justice Department returned the weapon to him recently and it still bore the case number written on it in silver permanent marker.
Then a neighborhood watch volunteer, Zimmerman shot and killed Martin in a confrontation as the unarmed teenager was heading back to a relative's house in Sanford, Fla., after buying snacks at a convenience store. He claimed the black teenager was trying to bash his head on the pavement during a struggle and a jury found him not guilty of second-degree murder and manslaughter.

Visitor Comments (0)
Be the first to post a comment!
After attending the fifth grade graduation and awards ceremony of my 11-year-old granddaughter at the second largest Christian school in Miami-Dade County, can you tell that "no race-mixing" was a thing of the past?
In Which Major Athletes Can We See Divine Inspiration?
Among the 1 million Cubans living in Greater Miami, most would be considered rubio by Cuban standards. They are fair-skinned with light eyes. Yet, two-thirds of the population in Cuba is Black. Where is this community?
Back To Archives