Now Gospel Singer Lady Saw Receives Checks for Old Songs, Claims God Doesn't Judge
August 17, 2016 • By Andre Barracks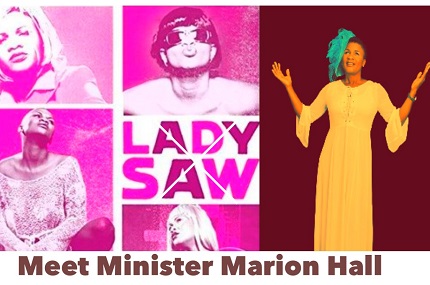 Lady Saw, known to reggae fans as the bad girl of dancehall, was once eschewed by anyone with tender ears and a low tolerance for lasciviousness – specifically Christians.
She was the first female deejay to win a Grammy Award and to be certified as a triple-platinum artist even though her awards were linked to racy titles like "Stab Up De Meat," "Condom" and "I've Got Your Man." In 2013, she gained a fresh set of listeners when The Voice Season 5 winner Tesanne Chin performed "Underneath It All," a song by the band No Doubt featuring Lady Saw.
Tessanne Chin, also a Jamaican singer was acquainted with Lady Saw, known now by her birth name Marion Hall, even before entering The Voice. Chin's performance was very flattering for Hall, she said.
"I was a big fan of Tessanne before she went on The Voice and her performance was powerful. We did a few shows together in the past, and she is a beautiful soul, very down to earth. Thus, I was voting and voting for her from the time she got on the show. The night I saw her do the song she didn't get some of the words right but it was good and she acknowledged me afterwards," said Hall, laughing.
Hall, who prefers the moniker Minister Hall now, has experienced a spiritual transformation that has changed her walk, her talk, and the song she sings. And, even though, the seminal reggae artist's influence is heard throughout the genre today, especially among female deejays, Minister Marion Hall released her debut gospel project When God Speaks just last month.
The 14-track album shows Minister Hall's versatility and lyrical prowess. While one might expect an album full of straight deejay tunes, the kind that made Minister Hall famous – frankly – this is more of a singer's record.
"When I was Lady Saw, if you remember I had an alter ego. A lot of people were asking me if I was still going to deejay. I told them I wasn't really feeling that for this album. Whatever God was giving me for this album wasn't deejay stuff, I ended up putting only about three deejay tracks on the album."
As Minister Hall shared about her changed life, she spoke about how God currently gives inspiration for her songs. One example of this is God leading her to a certain portion of scripture and from there she would get three verses to a song. She tells of God speaking to her in the kitchen, while walking home, or even just cleaning her house. The sum total of these occurrences produced the album When God Speaks.
A conversation with Minister Hall quickly revealed her main focus in life, being about her father's business. She has totally distanced herself from the Lady Saw alter ego, adamantly proclaiming she does not listen to any of her old material.
"I was never a person who listened to myself previously. I will never hear any of my old songs anymore. I am not going to the dancehall or going on YouTube to look up any songs. If I go on YouTube, I type in "bible" and the Bible pops up and I lay down and listen to the Bible. That's my music right now."
Although Minister Hall may not listen to her old songs, her previous work is still out and generating money for the singer. Naturally, one might see an incongruity in receiving income from songs that do not promote righteous living, for which Minister Hall seemed to have an explanation
"I do not do dancehall shows anymore, but I do still collect money from songs like the one I did with No Doubt. I'll get a small check from that sometimes. Really and truly I wasn't seeing any money from the work that I did. The song I did with Bossman, Sean Paul, or Beenie Man, which were clean songs I receive checks from those at times," said Hall. "As the scripture says, the wealth of the wicked is laid up for the righteous. Whatever I did in the past, God is not going to judge me for that because He already cleaned my slate."
Responses like the one above from Minister Hall may be the reason she has harsh critics since surrendering her life to Jesus. Many Jamaican Christians have "crucified" her and taken issue with her sudden change of perspective.
On the contrary, Minister Hall said those in the dancehall industry, however, have not said anything ill toward her. Recently converted Christian reggae artists have all reached out to Hall to lend their support.
"I spoke to Stitchie when I got saved, he has been instrumental in teaching me the Bible. Chevelle Franklin is another one who has been praying for me for a while," said Hall.
Minister Hall's switch to gospel music is not an uncommon occurrence in the world of reggae.
Dancehall reggae artists like Papa San, Lt. Stitchie, Chevelle Franklin, Carline Davis, and Junior Tucker now offer their talents unto the Lord.
"We Jamaicans, we grew up in church. All of us in Jamaica. Our grandparents and parents brought us up in church, we come from that kind of background. We all went to Sunday school. Since we are children who grew up like that, although we are in the dancehall making quick money, there comes a time when things start getting to our mind. We start to say "Oh Lord what am I doing here? God, You didn't bring me up like this. Lord, I'm sorry." When God is ready, you have got to move," said Minister Hall.
Minister Hall's divine call to "move" began at the funeral for popular Jamaican singer J. Capri in December of last year. The sudden and tragic death of J. Capri was a wakeup call to Hall. She tells of the Lord impressing on her to make the change 3.5 years prior, but she did not fully surrender her life over.
"I had nothing to do with my transition, it was all God. He started talking to me at a funeral and the depths of it were revealed more when I got home. I remember when He said to me "Go and get baptized," I said it is Monday and everywhere is closed. He said "Go Now!" My sister miraculously came by my house and helped arrange the whole baptism."
Minister Marion Hall believes in letting the Lord guide every step she takes and already has a few plans in the works.
"My calling is geared towards ministering to broken women. Women who have been raped and abused. I did that when I was Lady Saw through the Lady Saw Foundation for Abused Women and Children. My plan is to build a church in Jamaica, not for me but for the Lord. I plan to build tents where I continue to feed the homeless like I did when I was Lady Saw," said Hall. "We will look to purchase a bus to drive out and deliver food to the less fortunate. I also am planning on setting up centers where women can come in and learn to sow sheets and pillowcases. They would sell them and put the money back into the ministry as well as into the women's pockets."
She says that once the women are equipped enough, her organization will send them out on their own to find work.
Minister Marion Hall is a recipient of a changed life in Christ and has a laser focus to make a positive impact for God's kingdom until her final breath.
Hall had these parting words and insisted that all who may read this should know, "God doesn't turn people away, regardless of your past. Once you repent and ask for His forgiveness, He will accept you. God uses everybody in whatever way He wants to use them. When you give your life to God, you will see things happen that will leave your mouth wide open. When you have God directing you, everything changes. This comforting peace I have could not come from any man. It has to be from God and I would like for them to experience it."

Visitor Comments (0)
Be the first to post a comment!
You started a new relationship…or get married and you tell yourself that you are going to focus on each other. Make no mistake, though…there are "other" relationships you are bringing into this new fire love relationship, and these other types of relationships could make or break your love relationship (or marriage) this year!
Inspired by a true story, here is a first person account of how negging, the act of emotional manipulation using backhanded compliments, turns into emotional abuse. Breaking up is hard to do!
People are so afraid of being called selfish, self-absorbed, inconsiderate, thoughtless and uncompassionate, they forget to think and care about themselves.
Back To Archives