She has Guts. She has Grit. She has Grind.
December 21, 2016 • By Tiffani Knowles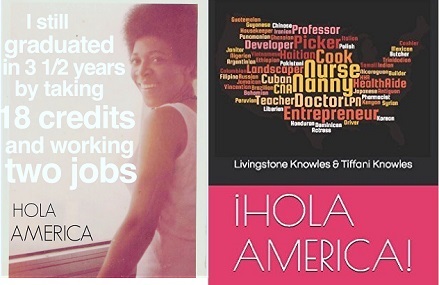 Bounding subway steps, scrounging for loose change, racing to work then class then work, going to bed hungry. This was my mom's reality when she migrated to NYC from Jamaica. I never knew how similar we were until I asked her to tell me her immigration story. Much of it makes me cry because it's so personal and heart-wrenching. I always knew she was a hard worker. But hearing how she did it with such grit and yet such grace, it makes me think of how people perceive me. They say, "Wow, you didn't look like you were going through all of that!" I smile and think, "It's because I come from good stock."
My mom went from cooking and cleaning for her father at age 10 in Jamaica to studying at the top art school in NYC at 24 all while self-financing it, graduating in 3 and a half years, returning to her country to teach at 27, then moving to the U.S. permanently and marrying my dad who is a Bahamian immigrant who had migrated 10 years earlier.
He migrated to the United States in 1968 and settled in Miami, Florida. He was employed with Greyhound Lines in the Miami, Florida and she came in to inquire about a trip to Orlando. She had only heard of Disney World and had wanted very much to experience this American treasure. She didn't buy then and my dad knew that he must follow up. He took her number and followed up more than he should have. Of course, that is because he had ulterior motives.
Miami is the epicenter of immigration in the state of Florida and Greyhound buses are the preferred mode of transportation for people on the lower economic scale. While living in Miami, my parents witnessed the Mariel boat lift from Cuba, the unwelcome arrivals on rickety boats of Haitian refugees—some perishing in the crossing, the arrests and subsequent deportations of illegal aliens detained at his bus station, and the forcible repatriation of Elian Gonzalez and resulting protests and demonstrations.
Additionally, for more than thirty years, they were members of the Open Bible Church in Miami, a primarily West Indian congregation who migrated to the States from countries like Jamaica, Grenada, Trinidad and Panama. My dad served as a leader in their public relations, outreach and missions departments.
The above experiences and events, coupled with conversations with his frequent encounters with exiles and "down and outers," gave him a unique insight into the mind and situation of the foreigner and the outsider.
My dad is one of the best writers I know. My mom is still the best teacher I know. I take after them both in my chosen professions. They are my inspiration. They are me. They are you. They are what my country is made of. Guts. Grit. Grind. Read their story and 9 others like it in my new paperback book HOLA AMERICA.
Both the Kindle and paperback editions are available for purchase on Amazon.

Visitor Comments (0)
Be the first to post a comment!
Poor and disadvantaged people address needs before values. There may be more of a reason why Black People vote Democratic in the United States.
Double consciousness was coined by W. E. B. Du Bois in 1987 to describe an individual whose identity is divided into several facets.This was ever present in the movie Green Book.
Today is an opportune time to revisit the vision of Crazy Horse, the notable Sioux warrior to glean what you can. "Upon suffering beyond suffering; the Red Nation shall rise again and it shall be a blessing for a sick world. A world filled with broken promises, selfishness and separations. A world longing for light again. I see a time of seven generations when all the colors of mankind will gather under the sacred Tree of Life and the whole Earth will become one circle again. In that day there will be those among the Lakota who will carry knowledge and understanding of unity among all living things, and the young white ones will come to those of my people and ask for this wisdom. I salute the light within your eyes where the whole universe dwells. For when you are at that center within you and I am at that place within me, we shall be as one."
Back To Archives