Underground Gets Canceled by WGN America
June 1, 2017 • By Tiffani Knowles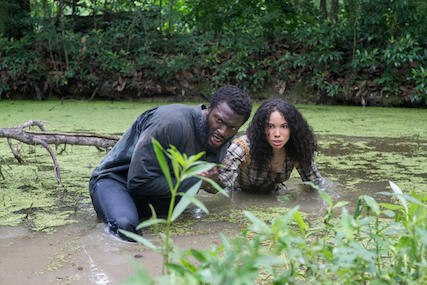 After two seasons of following the story of Rosalee and Noah, escaped slaves and star-crossed lovers from Macon, Georgia, WGN America has canceled the show Underground due to a change in network leadership.
Despite solid ratings and heightened social media following around the show produced by singer John Legend, Underground has been caught in the crossfires of a network transaction.
Earlier this month, Sinclair Broadcast Group agreed to buy WGNA's parent company, Tribune Media, in a $3.9 billion deal.
The network's original, scripted programming is being cut, as a result.
Chris Ripley, CEO of Sinclair, has said that WGNA's ratings did not justify the cost of its programming.
The historical drama follows the heroes of the Underground Railroad who use their brains, smooth-talking and even sexuality in order to escape slavery or assist slaves toward freedom. The cast includes Jurnee Smollett-Bell, Aldis Hodge, Jessica De Gouw, Alano Miller, Christopher Meloni, Marc Blucas, and Reed Diamond.
On social media, Legend and stars like Smollett-Bell are asking that fans who hope to see Underground again, spread the word about its message.
"WGN America has been bought and is going a different direction strategically. We will find a new home for #Underground!" tweeted Legend on May 30.
"Playing Rosalee has been the privilege of a lifetime. If you want a season 3, feel free to let the world know," Smollett-Bell wrote on Instagram that same day.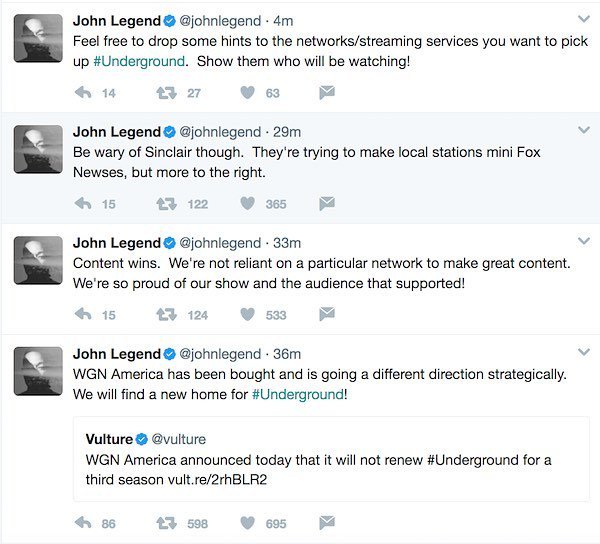 Fans will most likely not remain silent as Legend's cast and crew offered the most modern interpretation of a centuries-old story, using hip-hop rhythms as dramatic sonic beds.
"By far, it's been the most creatively and accurately written TV dramas about our people's history in America," said Bryan St. Louis, a fan who has been watching since its WGN debut in 2016.
In fact, with the introduction of the larger-than-life historical figure of Harriet Tubman played by breakout star Aisha Hinds, many had hoped next season would also serve to interweave other real historical figures into the show.
And, before one cries racism, WGN also canceled its top-rated show about a Kentucky mountain family, "Outsiders," in April.
Sony Pictures TV, which produces both series, has already exposed Underground to other networks in hope of finding a new home.
BET, OWN and Hulu, who has Underground streaming rights, have been mentioned as obvious possibilities and were all approached.

Visitor Comments (0)
Be the first to post a comment!
Doors are at the same time the entrance to something amazing and the exit from something amazing or the entrance into something terrible yet the exit from something terrible. What does your relationship look like?
Sarah Sanders said recently on the CBN, God wanted Trump to be president. Once you say that, it has to be demonstrated to an unbelieving, cynical world that his election is a God-ordained act.
This shutdown is a tool to appease a narrow group of immigration hardliners who spit out unsupported facts about immigration to an ignorant audience with prejudiced itching ears but most illegals immigrate LEGALLY then overstay.
Back To Archives