Jollof Jerk Festival coming to NYC
June 27, 2018 • By Tiffani Knowles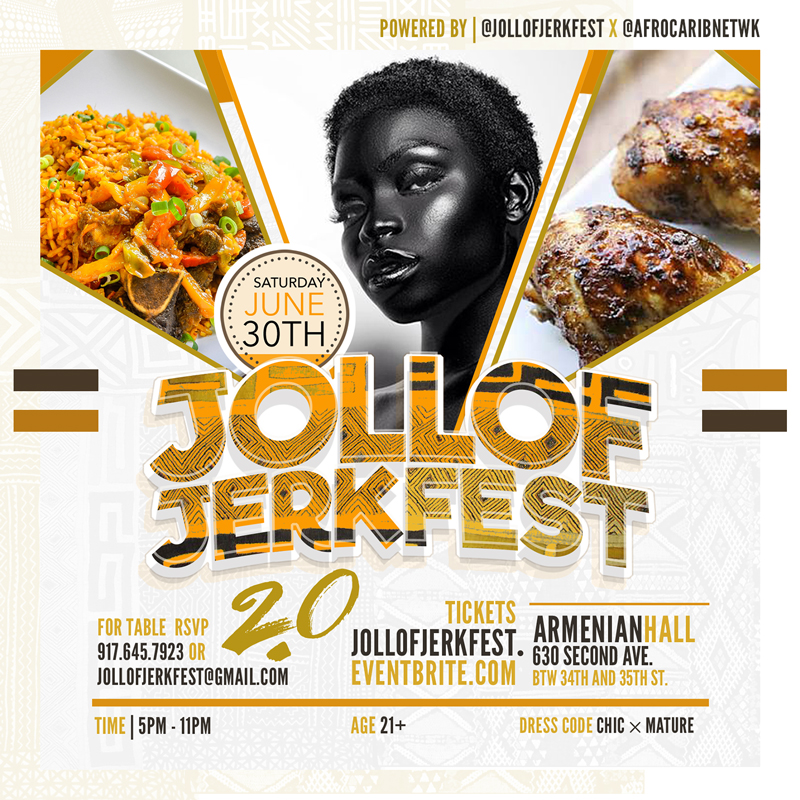 The Jollof Jerk Festival takes place Saturday, June 30 in New York's Armenian Hall from 5 to 11 p.m.
Organized by the Afro Carib Network, the event hopes to bridge the divide between the African and Caribbean diasporas through cross-cultural entertainment, food tasting, music exchange and dance, etc.
The festival's name comes from the popular West African tomato-based, spicy rice dish called jollof and the peppery, outdoor-grilled chicken made famous by Jamaicans. Both foods have become characteristic of African and Caribbean cuisine in the Americas.
Samuel Boateng, the founder of the Afro Carib Network, was born in Ghana, West Africa but grew up in New York City from the age of 6. His grandfather is the late 'Otumfuo Opoku Ware II', the Ashanti King and his uncle (Otumfuo Osei Tutu II) currently sits on the throne.


Boateng has a deeply personal reason for spearheading events like these.

"Being a Ghanaian born man with three Caribbean best friends (Trinidad, Dominican Republic, & Jamaica) , I've been placed in a unique position to able to understand the gap the exists," he said. "My ultimate goal is to transform this event into one of the biggest multicultural gathering in the United States of America and then abroad.
The target age demographic is 25 to 45 and the guests consist of industry elite professionals (doctors, lawyers, corporate America, entrepreneurs, etc.).
Armenian Hall is at 630 Second Avenue in New York between 34th and 35th Street. Tickets for the event can be found at EventBrite.


Visitor Comments (0)
Be the first to post a comment!
Jocelyn Bioh's School Girls; Or, the African Mean Girls Play signed on to reprise their performances in the off-Broadway production and continue to receive standing ovations for their raw truths on colorism, bullying and adolescent identity issues.
No matter what he does, or how many evangelical preachers attempt to convince me of Donald Trump's divine appointment to prevent the dismantling of the church in America and the socialistic takeover by the crazy, godless lefties, I remain unmoved and unconvinced.
In the wake of the #MeToo movement, white men, who many not be guilty, are being accused and feel hunted for no reason. Black men say: Welcome to the club.
Back To Archives