Gillum Could Become First Black FL Governor
August 29, 2018 • By Tiffani Knowles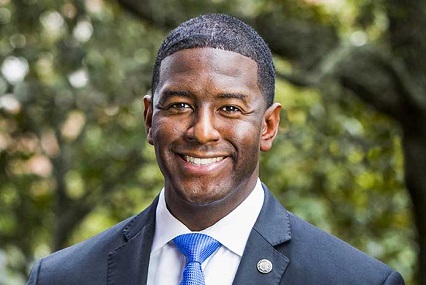 The last major primary night, August 28, before the November election was a major upset for former Rep. Gwen Graham but a victory for Tallahassee Mayor Andrew Gillum in the Florida Democratic gubernatorial nomination.
If Gillum defeats Republic Ron DeSantis in the Nov. 6 election, he would become Florida's first black governor.
Gillum's victory -- particularly in a state as crucial to the presidential primary and general election process – will have lasting effects.
Gillum is originally from Miami, Florida and is the son of a bus driver and a construction worker.
He was the fifth of seven children and the first to graduate from high school. He went on to attend a historically black college, Florida A&M University in Tallahassee and graduated with a degree in political science. He is 39.
Gillum's victory is the third major victory for a black Democrat in a Democratic gubernatorial primary field in 2018, following former NAACP president Ben Jealous in Maryland and state Rep. Stacey Abrams in Georgia.

Visitor Comments (0)
Be the first to post a comment!
You started a new relationship…or get married and you tell yourself that you are going to focus on each other. Make no mistake, though…there are "other" relationships you are bringing into this new fire love relationship, and these other types of relationships could make or break your love relationship (or marriage) this year!
Inspired by a true story, here is a first person account of how negging, the act of emotional manipulation using backhanded compliments, turns into emotional abuse. Breaking up is hard to do!
People are so afraid of being called selfish, self-absorbed, inconsiderate, thoughtless and uncompassionate, they forget to think and care about themselves.
Back To Archives