Gillum Could Become First Black FL Governor
August 29, 2018 • By Tiffani Knowles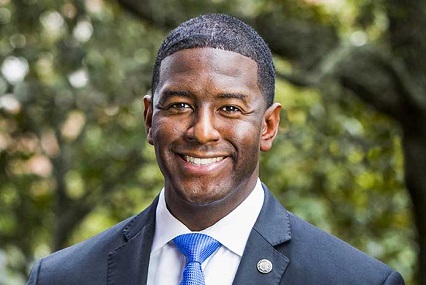 The last major primary night, August 28, before the November election was a major upset for former Rep. Gwen Graham but a victory for Tallahassee Mayor Andrew Gillum in the Florida Democratic gubernatorial nomination.
If Gillum defeats Republic Ron DeSantis in the Nov. 6 election, he would become Florida's first black governor.
Gillum's victory -- particularly in a state as crucial to the presidential primary and general election process – will have lasting effects.
Gillum is originally from Miami, Florida and is the son of a bus driver and a construction worker.
He was the fifth of seven children and the first to graduate from high school. He went on to attend a historically black college, Florida A&M University in Tallahassee and graduated with a degree in political science. He is 39.
Gillum's victory is the third major victory for a black Democrat in a Democratic gubernatorial primary field in 2018, following former NAACP president Ben Jealous in Maryland and state Rep. Stacey Abrams in Georgia.

Visitor Comments (0)
Be the first to post a comment!
Doors are at the same time the entrance to something amazing and the exit from something amazing or the entrance into something terrible yet the exit from something terrible. What does your relationship look like?
Sarah Sanders said recently on the CBN, God wanted Trump to be president. Once you say that, it has to be demonstrated to an unbelieving, cynical world that his election is a God-ordained act.
This shutdown is a tool to appease a narrow group of immigration hardliners who spit out unsupported facts about immigration to an ignorant audience with prejudiced itching ears but most illegals immigrate LEGALLY then overstay.
Back To Archives