Gillum Could Become First Black FL Governor
August 29, 2018 • By Tiffani Knowles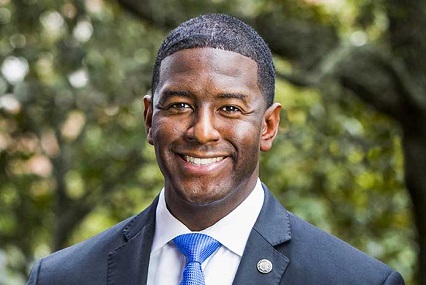 The last major primary night, August 28, before the November election was a major upset for former Rep. Gwen Graham but a victory for Tallahassee Mayor Andrew Gillum in the Florida Democratic gubernatorial nomination.
If Gillum defeats Republic Ron DeSantis in the Nov. 6 election, he would become Florida's first black governor.
Gillum's victory -- particularly in a state as crucial to the presidential primary and general election process – will have lasting effects.
Gillum is originally from Miami, Florida and is the son of a bus driver and a construction worker.
He was the fifth of seven children and the first to graduate from high school. He went on to attend a historically black college, Florida A&M University in Tallahassee and graduated with a degree in political science. He is 39.
Gillum's victory is the third major victory for a black Democrat in a Democratic gubernatorial primary field in 2018, following former NAACP president Ben Jealous in Maryland and state Rep. Stacey Abrams in Georgia.

Visitor Comments (0)
Be the first to post a comment!
Power facilitates access to money which maintains said power and influence over a society. This is the reason systemic racism exists in America. Can a believer understand this?
New York native Jose Figueroa Jr. has made it to the May live shows on NBC's "The Voice" Season 20 with a dominant Christian song selection and a gratefulness to the God.
There is a Senate investigation into Senator Ted Cruz and Senator Josh Hawley due to their alleged acts that may have contributed to the insurrection at the Capitol on Jan. 6. Here's an open letter to Senator Hawley.
Back To Archives