Gillum Could Become First Black FL Governor
August 29, 2018 • By Tiffani Knowles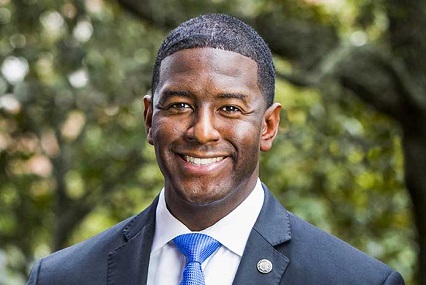 The last major primary night, August 28, before the November election was a major upset for former Rep. Gwen Graham but a victory for Tallahassee Mayor Andrew Gillum in the Florida Democratic gubernatorial nomination.
If Gillum defeats Republic Ron DeSantis in the Nov. 6 election, he would become Florida's first black governor.
Gillum's victory -- particularly in a state as crucial to the presidential primary and general election process – will have lasting effects.
Gillum is originally from Miami, Florida and is the son of a bus driver and a construction worker.
He was the fifth of seven children and the first to graduate from high school. He went on to attend a historically black college, Florida A&M University in Tallahassee and graduated with a degree in political science. He is 39.
Gillum's victory is the third major victory for a black Democrat in a Democratic gubernatorial primary field in 2018, following former NAACP president Ben Jealous in Maryland and state Rep. Stacey Abrams in Georgia.

Visitor Comments (0)
Be the first to post a comment!
Jocelyn Bioh's School Girls; Or, the African Mean Girls Play signed on to reprise their performances in the off-Broadway production and continue to receive standing ovations for their raw truths on colorism, bullying and adolescent identity issues.
No matter what he does, or how many evangelical preachers attempt to convince me of Donald Trump's divine appointment to prevent the dismantling of the church in America and the socialistic takeover by the crazy, godless lefties, I remain unmoved and unconvinced.
In the wake of the #MeToo movement, white men, who many not be guilty, are being accused and feel hunted for no reason. Black men say: Welcome to the club.
Back To Archives