Warriors of Liberty, No Pipe Dreams Allowed
September 17, 2018 • By Tiffani Knowles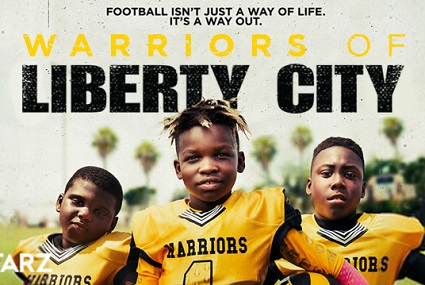 Starz's new docuseries "Warriors of Liberty City" is far more than a sports tale, selling pipe dreams to inner city youth.
The cable TV show that premiered on Sept. 17 is a refreshing look at, one, how sports is a perfectly relevant pasttime that can serve to shuttle young Black men out of the ghetto and, two, how Black fathers are not just the stereotypical deadbeat, but are loving, nurturing parents integral to their child's success.
Produced by LeBron James and Maverick Carter (RIP, Survivor's Remorse), Starz takes a look at one of the roughest neighborhoods in Miami – Liberty City – where football is a serious preoccupation due, in part, to the non-profit organization of Luther Campbell, better known as hip hop artist Uncle Luke.
"We all do this for free, not one of us gets paid," Campbell told dozens of parents at the start of fall sign-up in episode one. "We hope that we can one day get rid of the registration fee, too."
Campbell, who grew up in Liberty City and made Miami booty music popular with songs like "Scarred" and "It's Your Birthday," said that he was encouraged to move to Los Angeles to become an actor but refused because he wanted to stay close to his community.
In 1994, he started the Liberty City Optimist Club where children who may otherwise have become gangbangers or gang victims could learn basketball, cheerleading, baseball and, of course, football.
The documentary states that just about half of the NFL is made up of players from Miami, Florida, featuring interviews with Chad "Ochocinco" Johnson and Duke Johnson.
You may be quick to liken the content in "Warriors of Liberty City" to other sports documentaries like "Hoop Dreams," but you'd be wrong.
This highly unscripted program shows us the grittiness of the Liberty city project life without neglecting the tenderness of the nuclear family seeking something better for their sons and daughters – which may or may not be a career in football.
Yes, the coaches are hardnoses with potty mouths. Yes, there is a considerable amount of attention paid to running fast and sharpening physical prowess. But, this is the first documentary where a community like Liberty City isn't just relegated to the No.1 crime-ridden neighborhood in Miami.
Offering an alternative to the depressed 'pork-n-bean' projects, the gun-toting culture and welfare momma realities, "Warriors of Liberty City" actually shows whole families helmed by formerly incarcerated and sometimes currently incarcerated men who are now fixated on providing a better life for their children.
It is more than an inspiring look at the struggles it takes to raise kids in the inner city. It shows the aspirations these dads who sport doo-doo dreads and smoke black-n-mild cigars on the football field sidelines have for their families.
One father looks out of the hallway window of his family's one-bedroom apartment and says that his nine-year-old son is his hope and he works had as a maintenance man to show his son the support that his dad, who he claimed was a sperm-donor, never gave him.
"What you gon' get your daddy?" the mom asks her little footballer. He responds, "a Ferrari."
It may or may not happen but the higher lesson is that these families are glued together by the sport of football. It isn't a passive act. These mothers and fathers are actively engaged in their boys' present and future.
The 2 Live Crew frontman Campbell has done a great service to the inner city and the world.
TIffani Knowles is the managing editor and founder of NEWD Magazine. Her hope is to become as "newd" as possible on a daily by embracing truth, authenticity and socio-spiritual awareness. She is bi-vocational as she is the owner of two businesses and a professor of Communication at Barry University in Miami, Florida. She is also the co-author of HOLA America: Guts, Grit, Grind and Further Traits in the Successful American Immigrant.

Visitor Comments (0)
Be the first to post a comment!
Power facilitates access to money which maintains said power and influence over a society. This is the reason systemic racism exists in America. Can a believer understand this?
New York native Jose Figueroa Jr. has made it to the May live shows on NBC's "The Voice" Season 20 with a dominant Christian song selection and a gratefulness to the God.
There is a Senate investigation into Senator Ted Cruz and Senator Josh Hawley due to their alleged acts that may have contributed to the insurrection at the Capitol on Jan. 6. Here's an open letter to Senator Hawley.
Back To Archives