African Mean Girls Play exposes raw human truths
November 9, 2018 • By Tiffani Knowles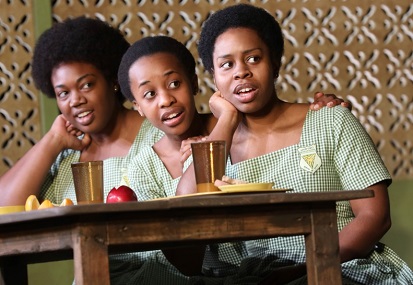 School Girls ended another night, not only with a standing ovation at the Lucille Lortel Theatre, but with a young Black woman drying her eyes after feeling the palpable effects of colorism among girls from the motherland and abroad.
Jocelyn Bioh's School Girls; Or, the African Mean Girls Play signed on to reprise their performances in the off-Broadway production on October 22 following a September run in Los Angeles and a New York debut last November.
This is a take-off of the American story Mean Girls, made popular by film star Rachel McAdams as the head of a clan of popular girls at an American high school. Remember the "you can't sit with us!" line.
In the MCC Theater's African Mean Girls Play, Paulina (MaameYaa Boafo) is the reigning queen bee at an elite boarding school in Ghana, West Africa and has her sights set on the Miss Universe pageant. Her hive: Ama (Latoya Edwards), Gifty (Paige Gilbert), Nana (Abena Mensah-Bonsu) and Mercy (Mirirai Sithole) live in her shadow and are kept in line by her snide insults, backhanded compliments and non-idle threats.
When Ericka, a new student from America with half-White/half-Ghanaian parentage, arrives on the scene, Paulina's position is threatened. Her light brown complexion, loose curly hair and stories of life in the United States capture both the hive's and the pageant recruiter's (Zenzi Williams) attention.
While the play is set in the mountains of central Ghana, playwright Jocelyn Bioh does a great job at seeking common ground between girls all over the world who suffer from body and color complexes, social status inequities and bullying as a result. She explores these sensitive topics with grace as her sharp humor shines through the performances of principal actress Boafo and the "squealing cousins" played by Gilbert and Sithole.
This coming-of-age story with '80s throwback taffetta dresses and an over-idolization of Bobby Brown and Whitney Houston explores more than what would resonate with African audiences or even Black audiences. In fact, most of the theatergoers that night were White and just as amused and moved by the hot-button issues of passing, dark-skinned female inadequacy and skin bleaching.
When I witnessed the medium-complexion black woman donning an African head tie leave the theater wiping her teary eyes, I realized that the truth about "fitting in" hits deep and can cause anyone to hurt themselves and others in the process.
"No matter where you're from, we all feel the same way. We all have jealousy, we bleed, we laugh, we love, we make decisions based on hurt and pain, it's the human condition in its rawest form," said Boafo, who is Ghanaian herself. "It's a blessing to play an African girl, she just happens to be Ghanaian – which is an extra blessing, on a New York theater stage who is three-dimensional, who is humanized. That is a dream role."
School Girls; Or, the African Mean Girls Play has been extended at Lucille Lortel Theatre until December 9. See it!
Tiffani Knowles is the managing editor and founder of NEWD Magazine. Her hope is to become as "newd" as possible on a daily by embracing truth, authenticity and socio-spiritual awareness. She is bi-vocational as she is the owner of two businesses and a professor of Communication at Barry University in Miami, Florida. She is also the co-author of HOLA America: Guts, Grit, Grind and Further Traits in the Successful American Immigrant.

Visitor Comments (0)
Be the first to post a comment!
Power facilitates access to money which maintains said power and influence over a society. This is the reason systemic racism exists in America. Can a believer understand this?
New York native Jose Figueroa Jr. has made it to the May live shows on NBC's "The Voice" Season 20 with a dominant Christian song selection and a gratefulness to the God.
There is a Senate investigation into Senator Ted Cruz and Senator Josh Hawley due to their alleged acts that may have contributed to the insurrection at the Capitol on Jan. 6. Here's an open letter to Senator Hawley.
Back To Archives