Egbe Festival Debuts Special Afro Dance and Performance
February 1, 2019 • By Tiffani Knowles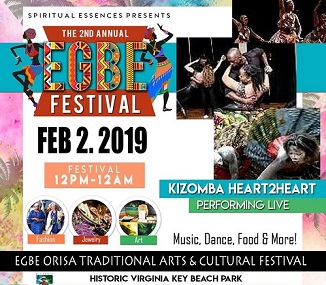 The second annual Egbe Festival offers festival-goers various performances, foods and vendors from throughout the African diaspora at the Historic Virginia Key Beach Park on the second day of African-American History Month.
On Saturday, February 2, 2019, the organization Spiritual Essences brings together participants like the Atlanta-based jewelry designer from the blockbuster film Black Panther and the African masquerade group, premiering for the first time in the U.S. to awaken the South Florida community to African contributions in the Americas.
At one time a "colored people" beach, Virginia Key Beach in South Miami-Dade is the perfect backdrop for Egbe's live drumming sessions, Afro-dancing, arts and crafts and seaside family fun.
Performers from South Florida's Kizomba Heart2Heart will debut their Angolan partner dance, kizomba, for the first time at this year's festival. It is a dance craze that his grown popular in the U.S. over the past decade due to a melding of Angolan semba dance and French Caribbean zouk music.
The event spans from noon to midnight at 4020 Virginia Beach Drive Miami, FL 33149. For more information, visit https://www.facebook.com/EgbeFest/

Visitor Comments (0)
Be the first to post a comment!
In Which Major Athletes Can We See Divine Inspiration?
Among the 1 million Cubans living in Greater Miami, most would be considered rubio by Cuban standards. They are fair-skinned with light eyes. Yet, two-thirds of the population in Cuba is Black. Where is this community?
We harm ourselves by completely ignoring, "A cheerful heart is good medicine, but a crushed spirit dries up the bones." Proverbs 17:22
Back To Archives